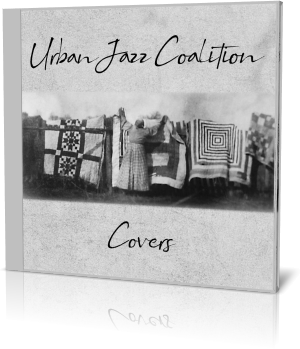 Columbus, Ohio very finest contemporary jazz band Urban Jazz Coalition has now released Covers (2019), their 23rd album. The group consists of bassist and founder Phil Raney, percussionist Hector Maldonado, keyboardist Brendon Howard, saxophonist Richard Randolph, drummer Rich "Rico" Adams and guitarist Duane Tribune.

The group is accompanied on selected tracks by their friends Joe Gothard (guitar and vocals), Lee Savory (trumpet and flugelhorn), Keith Newton (saxophone and flute), Ben Sherburne (sax), Brian Skeel (keyboards), Jim Bridges (drums), and special guests lead vocalists Jamar Ward, Quan Howell, Janeen Holmes and background vocalists Andrea Jackson, Nikia Humphrey, Brian McKnee & Electa Dawn Lee.
Motto of this album is "Learning From The Greats". Some of the cover songs were already recorded by the group over the years, others are part of their live repertoire or the band just like them to do.
The album opens with Fly Like A Bird, a song Mariah Carey first released in 2006. Urban Jazz Coalition recreates the song with a wonderful arrangement featuring saxophonist Randolph in the lead. The details in particular show the diversity of layouts with which the group implements its interpretation.
What Kind Of Man Would I Be was released by the group Mint Condition in 1996 on their album Definition of a Band. This rendition is already characterized by a stylistically appropriate use of instruments, especially of the keyboard sounds.
Déjà Vu is a song by American singer Beyoncé for her second solo album, B'Day (2006). The R&B song with moderate hip hop elements allows Urban Jazz Coalition to expand its abilities beyond a simple reflection. The group offers splendid solos by keyboards, guitar and sax.
With Georgy Porgy Urban Jazz Coalition reaches its very own domain. Georgy Porgy is a song written by David Paich, released on Toto's self-titled debut album in 1978. The smooth jazz community knows covers of Nils (Pacific Coast Highway), Will Lee (Oh!), Louie Shelton (Guitar) or Eric Benet (A Day In The Life). Urban Jazz Coalition does not rest on its instrumental prowess, but sends singer Jamar Wand into the ring.
Roof Garden will you immediately transfer into a vivid live atmosphere, a tune originally released by Al Jarreau on his popular album Breakin' Away (1981). This hit has lost none of its creative freshness. A good reason for the group to re-release this tune, which originally appears on the album XXII (2018).
Patrice Rushen released in 1982 the album Straight From The Heart. The album features the monster hit Forget Me Nots that outshined the other tracks on the album. The instrumental Number One undeservedly led a shadowy existence. Less funky than the original, the group shows the expansion possibilities of the piece in their own way. This is due to the exceptional piano solo by Brian Skeel.
The Gospel song We Fall Down was written by Kyle Matthews and made popular by Donnie McClurkin. The cover is introduced by Lee Savory on trumpet and sonically vocalized by Quan Howell. Ben Sherburne on sax leaves a strong emotional impression. All in all an exciting implementation.
The longest track on this album is by far Run For Cover with nearly 10 minutes. Originally written and performed by Marcus Miller on David Sanborn's album Voyeur in 1981, this tune is often played by Marcus in longer live versions. Of course especially for bassist Phil Raney a musical delicacy.
On The Radio is the first single of the debut album Urban Knights (1995) featuring the legendary saxophonist Grover Washington Jr. Maurice White (EWF) and Bill Meyers are the composers. The first notes of the intro are an homage to Maurice. Urban Jazz Coalition and their fellow players need not shy away from comparison with the original.
Before I Let Go is a song performed by Maze, issued as the second single from the band's fifth album Live in New Orleans (1981). The cover features phenomenal singer Janeen Holmes who keeps the level to Frankie Beverly and Beoncé with ease.
Covers are Urban Jazz Coalition's specialty. With this album they show that originals can still be improved or interpreted differently. If you have a bit of affinity for good contemporary jazz music, you can't get past this album.





Buy the album in all stores



Album Information



Title: Covers
Artist: Urban Jazz Coalition
Year: 2019
Genre: Smooth Jazz
Label: Independent

Tracks:

1) Fly Like A Bird (5:13)
2) What Kind Of Man Would I Be (4:46)
3) Deja Vu (4:39)
4) Georgy Porgy (5:07)
5) Roof Garden (4:53)
6) Number One (4:34)
7) We Fall Down (6:44)
8) Run For Cover (9:59)
9) On The Radio (6:11)
10) Before I Let Go (5:25)





Further reviews: