The Urban Jazz Coalition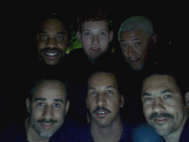 The Urban Jazz Coalition plays a unique blend of smooth R&B Jazz. The emotionally charged saxophone work of Ben Sherburne is greatly emphasized by Brandon Howard's lush multi-layered keyboards. The rhythm section of bassist Phil Raney, drummer Jim Bridges, Joe Gothard on guitar/vocals and world class percussionist Hector Maldonado, kicks out a multitude of funky, jazz inflected grooves while Sherburne and Howard go to work. Their repertoire includes their own compositions as well as many fan favorite hits from other well known artists.
Jim, drummer extraordinaire, has been playing since age 19. He has performed for a number of central Ohio groups that have shared the same billing with Rick James, Jeff Lorber and Buddy Rich just to name a few. Jim has done some producing for Columbus area groups and has himself done studio commercial work for several national business chains. His approach to producing reflects the love and respect he has for the music of Herbie Hancock. Two of Jim's favorite drummers are Billy Cobham and the late Tony Williams. The influence of their styles are evident when you hear the power of Jim's drum work.
Ben is the youngest member of the group. The multi-talented, 1998 Capital University graduate, majoring in Jazz Studies, contributes to the band's success with his tenor, alto and soprano saxophones, flute and backing keyboards. Ben also has a passion for composition. He has learned to use the computer as an instrument for writing. His exceptional writing and performing gifts have earned him the honor of being an assistant faculty member at the Richland Academy of the Arts in Mansfield, Ohio, for their summer Jazz Workshop. Ben is successfully pursuing his dream of a career as a performer and composer of Jazz and other contemporary styles of music.
Concert piano and keyboards have been a big part of Brandon's life ever since he was six years old, when he began formal piano lessons. Private lessons continued for ten years thereafter, including various school band and orchestra competitions, recitals and talent shows. Brandon received a Bachelors Degree of Music in Jazz Studies from Capital University, in Columbus Ohio, 1996. When he plays, you realize that he has gone from model student to master performer. Brandon covers the full music spectrum by working for a music publishing company, teaching private lessons and playing the keyboards for The Urban Jazz Coalition.
Bassist and producer, Phil is the founding member of The Urban Jazz Coalition. Phil's music career began in 1973 at Ohio University, where he and guitarist and fellow graduate, Joe Gothard, cut their R&B/Jazz chops as members of The Journey's End Band. In 1986 Phil moved to Los Angeles, where he quickly made his mark on the west coast music scene. He spent time as bassist for gospel artist, Andre Crouch and worked with legendary jazz drummer, Roy Porter. As a member of the LA Songwriter's Showcase, Phil's studio production abilities attracted the attention of hit songwriters Zane Grey (Back In Love Again - Jeffery Osbourne & LTD), as well as C. J. Anthony (Games - Chucky Booker & Gerald Levert). The relationships proved valuable as Phil was inspired to write and produce the material for the 1995 , 2nd View Records release, "Reflections". Phil is extremely happy with the success of "Reflections" and is confident that future Urban Jazz Coalition CD projects will propel the group to great heights in the music industry. In his own words he says, "We just have to stay strong, stay together and continue to focus on making music that is consistently listener friendly. Everything else will take care of itself...if we can just do that, I'll count it all joy"!
Guitarist and singer, Joe Gothard, has been friends with Phil Raney, at least since the age of three. (See pictures of Joe & Phil at Joe's third birthday party and when they got their first guitars on Christmas 1969). Joe's musical experiences are a spice rack full of flavors. He has performed as; a solo guitarist, half of a computer generated dance duo, part of various three and four piece Rock and Country bands, a member of some six to eight piece R&B and Jazz groups, as well as being a part of a sixteen piece Praise & Worship band for a world wide Christian organization. Joe says, "It's fun to like all kinds of music". And speaking about The Urban Jazz Coalition he says, "We have a good mixture of youth and experience. Plus everyone is great on their instrument, which makes me perform better. It is a pleasure for me to watch the other guys play their instruments while getting to be a part of the action at the same time"!
Hector was born in the The Bronx, New York and as a child grew up listening to the Latin music of 'El Grand Combo, Joe Cuba, Joe Bataan, Ray Barretto and other greats. He found himself fascinated and influenced by the percussionists of those bands and by his father, himself a percussionist and singer. Hector credits Armando Paraza of Santana as the main influence on his own style. In 1986 he was a member of the Ohio State University Jazz Ensemble and had the opportunity to perform with Jazz legend Rusty Bryant. In addition to performing with The Urban Jazz Coalition, because of his wonderful talent, Hector performs many ethnic drumming clinics around the City of Columbus, as well as throughout the Midwest.