Into the Night by Urban Jazz Coalition
– Reviewed by Chris Mann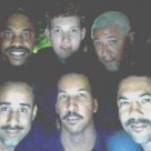 Urban Jazz Coalition are based in Columbus, Ohio and were a six-piece band at the time that this their first CD was released.
The line-up can be seen in detail on this site on the Artists page.
The band has averaged 100 live dates per year for the last seven years and the tight unit that comes out of this has received widespread praise from radio, retail and other artists.
Honey Brown is a bright and brassy opener – live bass and drums drive the song, which features the energetic alto of Ben Sherburne. There's something indefinably old-fashioned about this one.
Not so with San Juan Nights, which has a lush latin feel. It's the light touch of bassist Phil Raney and the gorgeous piano of Brandon Howard which delight. The class of this band is evident right here. Love this! Like ten of the thirteen songs on the CD, this was written by the whole band.
Soprano sax honours the late, great Grover Washington Jr. on Groverfied. This has an old skool, Incognito-type groove. Joe Gothard's rhythm guitar has all the flavour you need. Pharez Whitted guests on trumpet and really cooks. This is a lovely tribute.
Steve Wonder's Creepin' is a song that has been covered several times, as a vocal and an instrumental. Joe Gothard takes lead vocal duties here. The horn arrangement is something special – very classy.
That sexy piano's back on Stay Close to You. It's a strong melody and the subtle backing lets it shine. Rimshots, bass and guitar just keep things moving nicely. Yeah, late night smoocher…
The band pull latin flavours out of the bag easily and on Noches Calientes you'll be impressed at how well guest Christian Howes' violin and Sherburne's soprano intertwine. The guitar solo is a very powerful one and has that touch of Carlos Santana about it.
David Benoit's Freedom at Midnight is a good showcase for the talents of Brandon Howard and this version sounds just as confident and vibrant as the original – which I love too. Live, this must really do the business.
The sound is laid back and unadorned on the jazzy Paradise Island. Sax leads over some dreamy keyboard chords. The drums sound very live – in fact nothing here sounds overproduced. It's not hard to imagine how UJC come across on stage.
Lay even further back for the thoughtful In Our Hearts. The trumpet intro leads into a vocal ballad – it's an offbeat vocal performance which reminds me of Roy Ayers. The jury's out on whether this totally works.
I don't think that many jazz-funk outfits cover George Michael songs. For me, Fast Love doesn't do UJC justice. Funked up and done with a sax lead perhaps…
A strong tenor takes the lead on January and Sherburne's chops are undeniable. The sax and guitar interplay must make this another good live number. The intensity builds toward the fade.
The vocal Glad has a light reggae groove.
I'll make the Incognito comparison again. The bass and drum groove on Just Another Love is solid (and I'd love to hear both of these guys going for it even more) and the rhythm guitar has that lovely 'Bluey' sound. Alto's cookin' on what is really a jam session. People who have tickets for a UJC show have a treat in store.
This is a well-rounded first release which makes the prospect of hearing "Contempo" very appealing. The band's songwriting ability is such that cover versions should remain just a small part of their repertoire.
I hope that the wider exposure which comes from their association with Jazziz magazine and its OmniMedia label doesn't detract from the live energy which is so evident on this CD.

There's a strong appetite for funk in some parts of the market which I believe they could really satisfy.
Major 6th Records – Produced by UJC, Executive Producer Alan DiCenzo