| | |
| --- | --- |
| Archive | |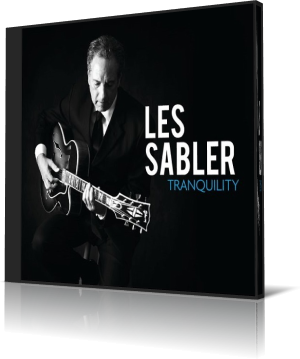 Nashville based guitarist Les Sabler started his career in Canada with the album Hidden Treasure (1990) initiated by Canadian Television Network documentary titled Lost Treasures of the Titanic. Time For Love (1994), Bridge The Gap (2003), Sweet Drive (2007), Live (2009), Crescent Shores (2010), and Jobim Tribute (2014) mark the career of a great guitarist.

His new album Tranquility (2021) has, according to the credits, a wide range of excellent accompanying musicians, who have their creative circle in the Californian focal point of smooth jazz. The well known names in the scene signal a high quality and up-to-dateness of the new album. Les wrote the tracks mostly in collaboration with Shane Theriot, Paul Brown, Jeff Carruthers, and Lew Laing.
Starter of the album is Crescent City Strut which accentuates a musical theme and is especially characterized by a rock-solid horn arrangement. Les himself plays his guitar with skillful nonchalance and routine.

City Rhythm is liquid gold set in tones. Moments of suspense and a captivating music are grandly realized. Three Dee unleashes an emotional play of Les on guitar and Greg Vail on sax. With the gorgeous Esselle's Dance Les enters the realm of romantic acoustic guitar, which we are quite familiar with through Peter White or Marc Antoine.

Easy Moves is a fine collaboration between Les and Jeff Carruthers, who already worked on numerous smooth jazz albums. When a piece of music bears the title Tranquility, this initially appears to be a contradiction. In the concrete case, the title describes a musical state that gently leads there as a preliminary stage, so to speak.

Keep Pushin' is a flowing piece at peace with itself, in which the sound of the guitar awakens longings. Les released In The Light already as a single in 2019. On his new album he presents a remix version with a strong brass section. Where Has She Gone is a question that drives many a man to despair. In contrast to the title, Les offers a thoroughly animating alternative.

The final tune of this grandiose album is the Benson/Goodrum penned Sunrise, a tune which was originally released on Chet Atkins' all-star guitar album Stay Tuned (1985). A piece that exerts its special charm through its simple beauty and thus fits perfectly into Les conceptual idea of his album.

Les Sabler's album Tranquility offers a select collection of exquisite guitar pieces that are rarely found in this accumulation.




Buy the album at bandcamp

Album Information

Title: Tranquility
Artist: Les Sabler
Year: 2021
Genre: Smooth Jazz
Label: New Vista Records

Tracks:

1) Crescent City Strut (4:07)
2) City Rhythm (4:01)
3) Three Dee (4:01)
4) Esselle's Dance (4:30)
5) Easy Moves (4:03)
6) Tranquility (3:56)
7) Keep Pushin' (3:42)
8) In the Light (Remix) (4:00)
9) Where Has She Gone (3:40)
10) Sunrise (3:35)






Credits:

Les Sabler (guitar)
Lawrence Seiberth (keyboards)
Shane Terriot (bass, rhythm guitar)
Gordon Campbell (drums)
Lee Thornburg (trumpet, trombone)
Greg Vail (saxophone)
Paul Brown (percussion, guitar)
Greg Bieck (keyboards)
Lenny Castro (percussion)
Jeff Carruthers (rhythm guitar, keyboards, drum programming)
Roberto Vally (bass)
Kenny Zarider (keyboards)
Brian Allen (bass)
Vincent Heckard (percussion)
Mark Douthit (saxophone)
Steve Patrick (trumpett)
Barry Green (trombone)
Tim Akers (horn arrangement)
Lew Laing (keyboards, drum programming)
Brother Paul Brown (keyboards)



Further reviews:


Sweet Drive

Crescent Shores



Live