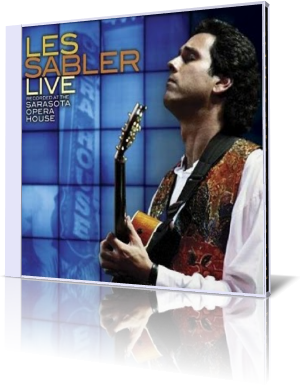 At the moment Les Sabler is in the charts with his new album Crescent Shores, a place, where virtuosity meets emotion. In September 2009 Les released the album Live, the recording of a concert, which was held on May 5, 1995 at the Sarasota Opera House.

The Sarasota Opera House is an intimate venue on the scale of European opera houses with fewer than 1,200 seats. The acoustics in the theater are superb and there is not a bad seat in the house. Its small scale means that the audience is closer and more a part of the action than in a larger opera house.
The ideal venue for Les Sabler's live concert, which he performed with percussionist Iraj Lashkary, drummer Kenny Crawley, bassist Ruben Drake, keyboard player Rob Satori, pianist Clay Perry and saxophonist Steve Gould.
The historic concert starts with Les Sabler's version of the Chris Rea song On The Beach. Les showcases his skills as guitarists and as singer! Can you imagine that he concentrates on his instrument on all of his other albums? This is an encouraging expansion.
Neptune's Waltz features the eclectic flute of late Steve Gould and of course Les' divine guitar. The song was originally released on his debut album Hidden Treasure (1990). In 1994 Les released his second album Time For Love. The Big Push is taken from that album and performed in an extended version. Guitar master at work.
Sting composed the wonderful song Fragile for his album Nothing Like The Sun (1987). Les' sensitive guitar rendition is part of this album and also to find on his newest one Crescent Shores. Some Things presents singer Sim Wilson. The vocal part was improved in the studio.
Winter Fiesta shows the band in splendid condition. Clay Perry's piano and Rob Satori's keyboard solos stand every comparison with Les Sabler's guitar play or Steve Gould's fiercy flute performance. Bass, drums and percussion excels the same way. The applause and holler of the audience is absolutely justified.
The Messiah Will Come Again reveals some of Les' Christian background and his hope for the return of Jesus Christ. The ardent guitar and sax performance is the finest worship. The album closes with Skylight, the mighty presentation of this historic event with the brilliant Les Sabler in the center.
Les Sabler's Live album is a gem for every friend of contemporary live music.





Buy the album in all stores

Album Information



Title: Live Recorded At The Sarasota Opera House
Artist: Les Sabler
Year: 2009
Length: 1:08:03
Genre: Smooth Jazz
Label: The Music Force Media Group


Tracks:

01 On The Beach [6:07]
02 Neptune's Waltz [8:08]
03 The Big Push [6:35]
04 Fragile [5:30]
05 Some Things [5:24]
06 Winter Fiesta [11:38]
07 The Messiah Will Come Again [7:21]
08 Skylight [17:22]