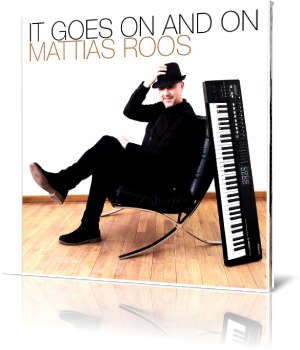 Swedish musician, songwriter and producer Mattias Roos, a member of the band Soweco, that he formed with drummer Peter Gustavsson, started his solo career with the album My Story (2016). Soon followed his second project Movin' Up (2017). Now he is back with his third project with the aptly title It Goes On And On (2019). Mattias builds on the proven cooperation with the label Skytown Records.
Mattias Roos has written, arranged and produced all songs. He performs piano, keyboards and also executes programming and editing. He is supported on selected tracks by Fran Merante, Wictor Persson (drums), Samuel Olofson, U-Nam (guitar), Greger Hillman, Mikael Emilsson, Andrey Chmut (sax), Marcus Asplund (trumpet), Jonathan Lundin, Samuel Lundell (bass).
I have to admit, I'm indulged by Keni Burke's Rising to the Top. Mattias Roos doesn't cover this ancient hit, but offers a modern musical concept which is been exceptionally engaged in keyboard magic. Bring It On shows more of Mattias' elegant piano style that captures the essence of his sonic mastery.
It's a Lovely Day is not a continuation of Bill Wither's hit but has the same classy attitude. It Goes On and On surprises with an abyssal deep synth bass and the most different keyboard sounds. U-Nam delivers salt and pepper with his electric guitar. When Matthias and U-Nam go into solo approaches, the whole thing gets star quality.
Just Cruising is the favorite pastime of dynamic Americans and Mattias attracts with a musical accompaniment of the fine art. Party in my Backyard is obviously inspired by Mezzoforte's music and shines with an abundance of melodic bliss. Magical Nights is another prove of heartfelt artistry.
Back to You is not stingy with plentiful synth sounds that accompany Mattias' refined piano theme. The romantic ballad Spending My Time With You is graced by the great talent of pianist Roos and saxophonist Andrey Chmut. Beautiful Starlights shares the background synths of the previous tune and seamlessly follows. Marcus Asplund brings in his signature sound on the trumpet. The album closes with a radio edited version of Rising to the Top.
Mattias Roos' technical brilliance is the main factor of his new album It Goes On And On. The incredible gifted piano prodigy surrounded by the most talented Swedish musicians proves that good smooth jazz is international.





Buy the album in all stores



Album Information



Title: It Goes On And On
Artist: Mattias Roos
Year: 2019
Genre: Smooth Jazz
Label: Skytown Records

Tracks:

1. Rising to the Top 3:52
2. Bring It On 3:53
3. It's a Lovely Day 4:39
4. It Goes On and On feat. Ll-Nam 4:07
5. Just Cruising 4:1 2
6. Party in my Backyard feat. Greger Hillman 4:23
7. Magical Nights 4:36
8. Back to You 3:41
9. Spending My Time With You feat. Andrey Chmut 4:43
10. Beautiful Starlights feat. Markus Asplund 5:06
11. Rising to the Top (Radio Edit) 3:35


Further reviews:


Movin On