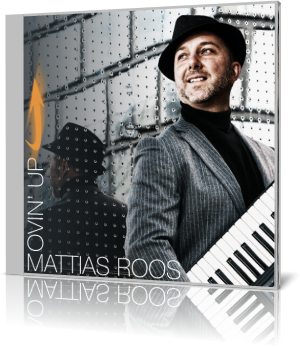 Swedish musician, songwriter and producer Mattias Roos is a founding member of the band Soweco that he formed with drummer Peter Gustavsson in 2011. He started his solo career with the album My Story (2016). His second project Movin' Up (2017) is destined to make a breakthrough on the American music market.
Mattias Roos performs on the new album piano, Rhodes, keyboards, synth bass, programming & editing. He is accompanied on selected tracks by U-Nam (lead guitar), Elan Trotman (tenor sax), Dwayne «Smitty» Smith, Jonatan Lundin (bass), Wictor Persson (drums), Samuel Olofsson, Johan Björklund (guitar), Markus Asplund (trumpet), David Ehrlin (sax) and Greger Hillman (sax section).
Central theme of the new album is the title song Movin' Up. The uplifting melody is the right stuff to bring you on the next level and U-Nam on guitar is now launching the second stage of joy. Take It Higher shows a giant step forward in artistic weight class with a simple melody which is transposed by a perfect arrangement to a catchy unforgettable something.
Midnight Drive reveals a certain flair of fine synth horn and strings background, which is typical for the time of the eighties. A signature sound by U-Nam who had the hand on the production. If you are a romantic type, you will probably choose From Me to You with a somewhat nostalgic expression and a splendid Samel Olofsson guitar decoration. Just Between Us featuring saxophonist Elan Trotman also places everything on the romantic card.
You're My Everything first opts on the ambient Rhodes sound, before the track speeds up to a fanfare-like theme with trumpeter Markus Asplund in the lead. Should your ears want even more caressing, listen carefully to Touch the Sky. Ok, you are not blinded by Sunset View, but this captivating piano/Rhodes tune is for your ears only.
On Stay for a While Mattias flashes another side of his melodic personality. The breathy City Nights blends piano and guitar to a hooking gem with a nuanced texture of elegance.
With Movin' Up Mattias Roos delivers a piece of artistic brilliance with an arrow pointing straight up! This is the start of a sonic evolution.