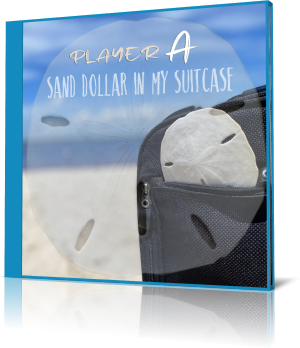 Producer, keyboardist and owner of the record label Creative Soul Jazz Eric Copeland has formed the contemporary jazz group Player A consisting of Nashville's top studio musicians. Their first albums are On The Side (2010), Our Own Devices (2011), and The Jazz In Me(2015). Devices, Techniques, Mechanisms (2018) was their fourth project. The newest project Sand Dollar In My Suitcase (2020) has been in production for a period of ten years.
"I started writing this on a Florida vacation about 2009," remarks Player A composer, keyboardist, and vocalist John Eric Copeland. "I meant to make it the next Player A album after Our Own Devices, but instead released other projects as I kept writing these beach, Florida, and Latin songs."

Player A Jazz features the top session players in Nashville. Consequently, the band members who are involved are most of those we already know from the previous productions. Besides keyboardist and singer John Eric Copeland, who also composed all tracks and has written most lyrics, are players John Hammond (drums), Craig Nelson (bass), Scott Williamson (drums), Brian Fullen (drums), Gary Lunn (bass), Danny O'Lannerghty (bass), Mark Baldwin (guitars), Scott Dente (guitar), and Tom Hemby (guitars).
The album starts with Welcome To Florida, an enthusiastic song about a trip to sunny Florida with all its attractions. Mark Baldwin's exquisite acoustic guitar is the instrumental counterpart to the vocals of John Eric and Sarah Whitemore. Two Worlds turns out to be an upbeat alternative to the music of the group The Rippingtons.

John Eric's great talent lies in his ability to translate exciting little stories into text and music. A good example of this is the title track Sand Dollar in my Suitcase, a tropical keepsake of a past paradise. You only have to look at the Sand Dollar to recall the memories. With the reggae-enhanced The Panhandler the group excels in Caribbean flavors, featuring Gary Lunn on a melodic lead bass accompanied by steel drums.
On The Beach is a musical picture of the mood, tuned in mild colors, which reminds of moments of happiness on the sand, where you can enjoy life to the full with friends and family. Festivo (Danza de la Vida) combines two musical themes, a Latin enhanced dynamic syncopating smashing hit, and a playful, reflective subject. Both mix and separate from each other and thus generate the desired moments of tension.
Unlike comparable singers, Copeland also takes on themes that seem unimpressive at first glance. In the song Palmetto about a palm tree he reveals himself to be a nature lover but at the same time links this element with memories of relaxing places free from city pace. Tumble seems to me a natural progression from Michael Franks' When I Give My Love To You. Similar in instrumentation, however, Copeland chooses further percussive elements to make his song more attractive. Anew Mark Baldwin delivers on acoustic guitar the extra crème.

Safe From the Storm features a duet between John Eric and Cheryl Tuell. Is The Samba Is Waiting a musical joke? It turns out this piece is a slow Bossa Nova version of the classic hymn The Savior Is Waiting, a nod to the fact that most of Player A's musicians work on many contemporary gospel works in Nashville. The contemplative Moon Over the Ocean brings a worthy ending to the overall convincing album.
With his pronounced vocal part, Sand Dollar In My Suitcase ties in more with the album The Jazz In Me than with the albums Our Own Devices and Devices, Techniques, Mechanisms. John Eric Copeland spins the jazzy component back in favor of the balladic. Thus he addresses a definitely different target group than the contemporary-jazz oriented fan community. A courageous step, but one that can certainly pay off. From a musical point of view, there is nothing to be sniffed at in the high quality of play of all those musicians involved.

My goal with this record was to feature the Latin jazz side of our group and take a little vacation south in the sun," Copeland adds. "These songs fit with other songs from our previous works including "El Caribe" from our first EP, to "Talk About It" on Our Own Devices, to "Have Thine Own Way" on The Jazz in Me. Don't worry, our next album we will be turning back to some very progressive urban smooth jazz!"







Buy the album in all stores

Album Information

Title: Sand Dollar In My Suitcase
Artist: Player A
Year: 2020
Genre: Smooth Jazz
Label: Creative Soul Jazz


Tracks:

1) Welcome to Florida (5:06)
2) Two Worlds (5:17)
3) Sand Dollar in my Suitcase (5:42)
4) The Panhandler (4:50)
5) On the Beach (5:11)
6) Festivo (Danza de la Vida) (4:39)
7) Palmetto (4:48)
8) Tumble (4:14)
9) Safe From the Storm (3:56)
10) The Samba is Waiting (5:26)
11) Moon Over the Ocean (5:00)




Further Reviews:

Devices, Techniques & Mechanisms