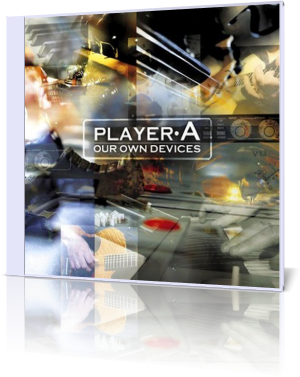 Player A is not a typical Nashville music group. These contemporary jazz musicians are their own recommendation. Flooding the scene with new ideas and extreme professionalism it was only a natural way to release after their debut EP On The Side their sophomore album Our Own Devices (2011).
Player A are keyboardist and producer Eric Copeland, bassist Gary Lunn, guitarist Mark Baldwin, drummer Bryan Fullen and saxophonist Sam Levine. Inspired by mastermind and composer Eric Copeland Player A presents the finest smooth jazz, Nashville ever heard.

Sleekness starts the album with a funky approach. Marcus Anderson takes the lead on sax. This young lion is a powerhouse of saxman. Mark Baldwin gives his call on sax the right answer on guitar.
Staying Alive is not a Saturday Night Fever dream. This rendition is a heavyweight of groove. Especially the talk box effect makes it dirty and phat.
The Deepest Love is a fine ballade, a treasury for all smooth jazz fans. Dave Cleveland on guitar gives this tune a shining finish. With Coming On saxophonist Sam Levine showcases his great experience and prowess as player and overdub specialist.
Our Own Devices has so much musical depth, you don't know how to start praising the musicians. From Copeland's compositional genius to Brian Fullen's impressive work on drums to Tom Hemby's breathtaking guitar loops or Gary Lunn's propulsive bass, there is a plethora to listen.
On the easy going Steppin Gary Lunn excels on bass. One Step Forward shows the band's competence for lyrical movie scores. Talk About It adds a breeze of Reggae flavored harmony. Remarkable Scott Dente and Mark Baldwin on acoustic guitar.
(Hate To Say) I Told You So is the perfect song for Copeland to spread his talent on the smoky keys. The Ruthann Friedman written hit Windy from 1967 was introduced into the instrumental world by Wes Montgomery. But what Copeland makes with the melody, is pure genius. From the Mario Brother intro to the fast paced syncopated jazz piece, just superb.
With the edgy song Chiller the group presents their members in flashing solos. Gary Lunn on fretted bass and Eric Copeland on electric piano serve A Fitting End in a melodious and introspective way.
Nashville's highly accomplished musicians Player A deserve our attention. Our Own Devices is an exceedingly thrilling experience. More of this stirring ideas on their next album and this band will write history.




Buy the album

Album Information

Title: Our Own Devices
Artist: Player A
Year: 2011
Length: 0:47:52
Genre: General Jazz
Label: Creative Soul Jazz


Tracks:

01 Sleekness [3:59]
02 Staying Alive [3:36]
03 The Deepest Love [4:08]
04 Coming On [4:20]
05 Our Own Devices [4:59]
06 Steppin [3:47]
07 One Step Forward [4:29]
08 Talk About It [4:14]
09 (Hate To Say) I Told You So [4:32]
10 Windy [3:14]
11 Chiller [3:35]
12 A Fitting End [2:59]




Further review: