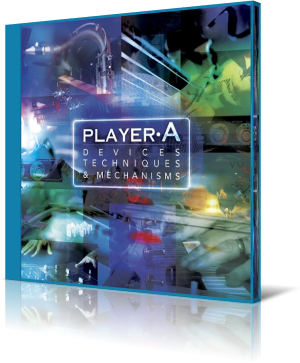 Nashville, Tennessee is one of America's musical hot spots. Producer, keyboardist and owner of the record label Creative Soul Jazz Eric Copeland has formed the contemporary jazz group Player A consisting of Nashville's top studio musicians. Their first albums are On The Side (2010), Our Own Devices (2011), and The Jazz In Me (2015). Devices, Techniques & Mechanisms (2018) is their fourth project, an addendum to Our Own Devices.
The album is titled after a famous speech of Martin Luther King Jr.: "Every man lives in two realms: the internal and the external. The internal is that realm of spiritual ends expressed in art, literature, morals, and religion. The external is that complex of devices, techniques, mechanisms, and instrumentalities by means of which we live."
Eric Copeland performs on this album keys and programming. Furthermore the following musicians participate in this project John Hammond, Scott Williamson, Dan Needham (drums), Gary Lunn, Danny O'Lannerghty (bass), Mark Baldwin, Tom Hemby (guitars), Jeff Kashiwa, Sam Levine, Marcus Anderson (saxes), and Jeff Savage (additional loops and programming).
The starting track Told You So! featuring saxophonist Jeff Kashiwa was originally released on the album Our Own Devices. Eric refreshed the song with a more rhythmic remix. Deep Pockets has a more raw impact. Mark Baldwin plays a distorted guitar, Eric makes his supreme traces on vintage organ. A bit of rock, but more over with a jazzy attitude.
Yin & Yang is the Chinese principle of two nature forces standing opposite but seamlessly complementary. The song combines Scat singing with Mongolian Tuvan humming in a dynamic mesh featuring jazz solos by guitarist Tom Hemby and drummer Scott Williamson.
Eric Copeland released in 1999 his solo album Cooler. First track of this album was the title Chill. This song was modified on Our Own Devices as Chiller. Chillest is the third effort with a remix by Jeff Savage who transforms the track to a modern electro swing by manipulating the sound through filters and flangers and adding a programmed beat.
Coming on from the album Our Own Devices features saxophonist Sam Levine whose perfection contributed significantly to the success of the song in the charts. Coming Back On is pepped up by Jeff Savage with additional sax parts.
Marcus Anderson in earlier times in Prince's dream team proved his reputation as the powerhouse of the sax in the earlier version of Sleekness, to find on Our Own Devices. Jeff Savage did a great remixing job on Sleekness Revisited with fascinating vibes. Eric comments: "Some things just bother you after you release an album, and they never go away. And this killer tune just had some things I heard in headphones that always needed fixing. That is done now, and the groove is tighter too!"

Player A capture with Devices, Techniques & Mechanisms your ears presenting enticing tracks with exiting modern elements. Nothing can be improved on this album, except that Eric Copeland will take the next step towards live presentation after the crisis.



* A Special Edition CD with the Bonus Track Stayin' Alive (After Midnight) is available here.