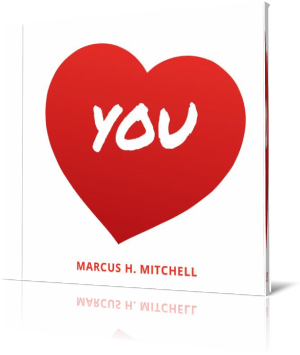 Multi-instrumentalist Marcus H. Mitchell celebrated last year the 20th anniversary of his musical career with his album 20. This year, with his album You, he presents a monumental tribute to the fair femininities.
With astonishing consistency, he places the female counterpart at the center of his musical contemplation. Marcus has written, produced, mixed and mastered all songs by himself for MHM Music Works.
The album starts with You. A melancholic ballad where the gentle saxophone wraps itself in a billowing sonic envelope of keyboard sounds.
You Make Me casts reflection from the counterpart to one's own ego. The saxophone is supported by a finely arranged horn ensemble. You and I at Renaissance Quai again reflects a subdued mood, with the saxophone accompanied by glassy keyboard sounds while the hihat provides the rhythmic beat.
The sweet saxophone style of You Make Me Smile is diametrically opposed to the monotone beat played by a drum-machine. No it's not a noise, it's a feature, one can state with the rhythm of You-Interlude.
While the melodies enchant you with their charm, I find the use of the drum machine on You Inspire Me rather disturbing. It's probably due to the monotony of the beat, which doesn't change throughout the piece and so doesn't resemble the beat of a good drummer.
On You Complete Me, the beat takes a step back, which is good for the piece overall and gives the saxophone more room to unfold. Organ and wah-guitar add a fitting retro effect to the piece, with the piano solo being a surprisingly pleasant interlude.
You Encourage Me stiffens into almost hypnotic repetitions of a melodic sequence. You Motivate Me brings rhythmically nothing new, while I do not find the vinyl cracks as enriching.
I recognize a lot of good approaches in Marcus H. Mitchell's new album You, but in the end they are not purposeful because of the applied beat.





Buy the album in all stores

Album Information

Title: You
Artist: Marcus H. Mitchell
Year: 2021
Genre: Smooth Jazz
Label: MHM Entertainment


Tracks:


1) You (4:42)
2) You Make Me (4:20)
3) You and I at Renaissance Quai (5:17)
4) You Make Me Smile (3:58)
5) You - Interlude (3:43)
6) You Inspire Me (4:07)
7) You Complete Me (4:45)
8) You Encourage Me (5:18)
9) You Motivate Me (4:24)

Further reviews:

20