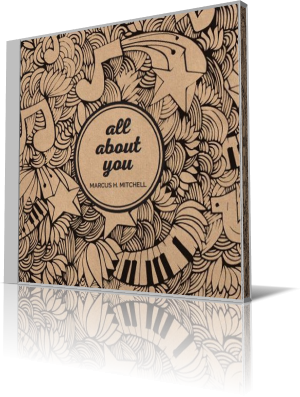 Saxophonist Marcus H. Mitchell started his solo career with the album Jumpin' in 2005, followed by R & R – Rest & Relaxation (2007) and twelve other albums. Now Marcus is back with his 15th album All About You (2015).
Like the previous albums it is released on his 24th Music label, a division of MHM Entertainment Group - a multi-faceted entertainment company based out of Maryland.
Mitchell has shared the stage with greats including Peter White, Kim Waters, Mike Phillips, Kim Waters, Destiny's Child, Marcus Johnson, The Rippingtons, Paul Taylor and many more. All songs are produced, mixed and mastered by Marcus himself. Great originals and covers by Michael Jackson and Chrisette Michele!
The album starts with the mellow Love Is In The Air inviting the audience to the blessed talent of this saxophonist supreme. Marcus duets perfectly with his various sax voices. A veritable mélange of smooth jazz and gospel music. Into The Light follows this style with a full range of loveliness.
Something Like Kirk comes up with a Curtis Mayfield guitar, hip hop beats, strings and soothing sax. Ingredients Marcus brings together with élan. BB also bases on hip hop stylish rhythm programming, which is a modern and popular approach to the genre. Chillin At The Old Scotts gives Mitchell room for his improvisations. Jazzy, but with a melodious core.
The slow In The Mood is a musical place for contemplation. The Michael Jackson song Love Never Felt So Good was released posthumously in 2014. Marcus H. Mitchell offers a stunning rendition with emotional sax and groovy percussion. All About It sets the mark higher again with a captivating melody and clapping rhythm. Final tune is the R&B groove I Blame You, another strong melody.
Marcus H. Mitchell shows with his album All About It the direction for the composers of sax. An album filled with an excellence of pieces bringing the saxophone into limelight.






Website


Buy the album in all stores

Album Information

Title: All About You
Artist: Marcus H. Mitchell
Year: 2015
Genre: General Jazz
Label: 24th Music

Tracks:

1. Love Is In The Air
2. Into The Light
3. Something Like Kirk
4. BB
5. Chillin At The Old Scotts
6. In The Mood
7. Love Never Felt So Good
8. All About You
9. I Blame You