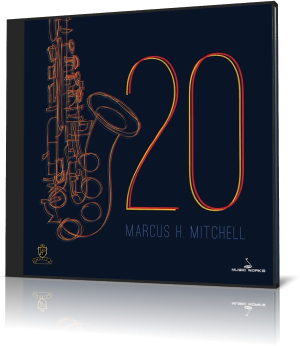 The number 20 has a magical meaning for saxophonist Marcus H. Mitchell. In 2020 he has already been in the music business for twenty years and looks back on twenty releases. With his album 20 he honors this fact with a total of twenty pieces of music.

The following have contributed to the success of this new project: Gerald Albright (bass), Jeff Lorber (keyboards), Samituru (guitar), Hector Ruano (bass), Precious Joubert (vocals), David Dyson (bass), Earl Carter (guitar), Carl Anderson (vocals), and Daniel Bennett (guitar).
In the scope of a double album Marcus has equipped his new work like an opus with intro, interludes and outro. The first longer track, the title song, was released earlier this summer and features such prominent musicians as Jeff Lorber and Gerald Albright. These musicians are honestly striving for excellence and deliver outstanding artistry on the whole range.
It's Never Too Late lets the funky dogs off the leash. Samituru allows his guitar sing like Jimi Hendrix in his best time. No Such Thing stylistically takes a new melodic direction, shining in harmonies. This is a rendition of John Mayer's song from his album Inside Wants Out (1999).
Strasbourg - St. Denis was originally released by Roy Hargrove on his album Earfood (2008). Marcus' interpretation replaces the trumpet part with keyboard sound giving this eternal funky groove a new character.
South Of The River is a gorgeous tune by Tom Misch with a grooving bass line and a rhythm guitar in the style of Nile Rodgers. The keyboard solo is out of this world and certainly inspired Marcus to his cover. With I Feel You, Marcus has fished out another jewel from the archives of smooth jazz, which first saw the light of day in 1998 through Walter Beasley. Still For Your Pleasure.
With I Can't Wait To See Her Marcus unleashes a tight groove of overwhelming hypnotic sureness. Let's Have Some Fun sets the sails in the direction of chill out music pushing the flow to the next level. On I Wrote This For You Marcus cultivates the gentle sax style in the spirit of Kirk Whalum. Romance is the order of the day.
Your Lady addresses the friends of R&B. The song features the popular singer Precious Joubert. Class and elegance mirror in Anita Baker's song Soul Inspiration, released on her jazz inspired album Compositions (1990). A steep model for Marcus' lovely sax.
On M.E.D. Marcus plays the sax with reverb, which creates the impression of a live performance. The tune also features David Dyson, Earl Carter & Carl Anderson. Saturday revels in atmospheric vibrations that allow dreaming. With a great feel-good buoyancy Marcus celebrates the romance on I'm Glad We Met. I'm All In is enlivened by the contrast between the softness of the saxophone and the powerful hip-hop rhythm.
Marcus H. Mitchell delivers throughout his album 20 substance and quality with great inspirations for the listener. It is time to discover him.





Buy the album in all stores

Album Information

Title: 20
Artist: Marcus H. Mitchell
Year: 2020
Genre: Smooth Jazz
Label: MHM Entertainment


Tracks:

1) Intro (1:10)
2) 20 (5:47)
3) It's Never too late (5:06)
4) No Such Thing (3:54)
5) Strasbourg - St. Denis (5:06)
6) South of the River (3:39)
7) I Feel You (4:18)
8) I Can't Wait To See Her (3:48)
9) VSOUL 1 (1:57)
10) Let's Have Some Fun (4:58)
11) I Wrote This For You (6:47)
12) Interlude (0:54)
13) Your Lady (5:08)
14) Soul Inspiration (4:15)
15) M.E.D. (3:22)
16) VSOUL 2 (1:36)
17) Saturday (4:49)
18) I'm Glad We Met (4:25)
19) I'm All In (4:05)
20) Kirk Style Outro (1:23)


Discography:

Simply Marcus
My Definition
Jumpin
Itís a Nice Vibe
All Access
24th Music Presents the Jazz Boyz
All About You
Lounge EP
Love Is R&R
Lof!
The Book Of W
Interpretations
R&R
Music For America
Contemplation
In My own Lane
A Marcus H Mitchell Christmas
Jazzys Live
20