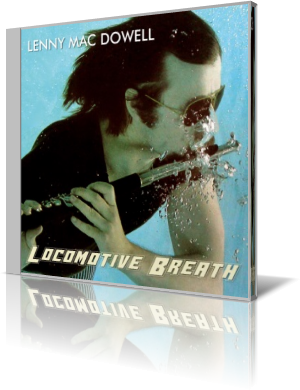 German flutist Lenny Mac Dowell cannot be reduced to a style or genre. His musical roots go back to the time of progressive rock. In the 70's he was playing in groups like Hölderlin and Birth Control under his real name Friedemann Leinert. His solo career started with Flute Power (1978), followed by Flexible (1979), Airplay (1980), Bird Watching (1982), Magic Flute (1983), Balance of Power and Live Tapes in 1984, Autumn Break (1986), Radioactive (1988). Later preceded by The Farthest Shore (1989), and Flying Torso (1995), Launch Control (2003), Echnaton's Return with Krell (2006), Get Ready (2009), Retrospective (2011), Meditation Following the Inspiration (2012) and this year Locomotive Breath.
With keyboardist Christoph Spendel he released the albums Autumn Breath (1989) and Landscapes (2015), in addition Deep House Project Ibiza, Vol. 1 (2014). Pete York, Lenny Mac Dowell & Wolfgang Schmidt released the albums Wireless and Once Upon a Time (2007).
His discographies on the Internet are partly incomplete, partly the albums are mentioned with different release dates, probably re­issues. Lenny Mac Dowell is tagged as a smooth jazz and new age artist or as a jazz rock and fusion jazz musician. He also founded together with his wife in 1987 the label Blue Flame Records still releasing albums of numerous artists of many genres. He was also music editor at the German radio station SDR 3 and moderated the program Treff nach Zwei. Furthermore he has been and is producing several mainly documentary films.
The album Locomotive Breath starts with the title song, an instrumental cover of the original tune, released by Jethro Tull on their 1971 album Aqualung. The cover was previously released in 1978 on Lenny's album Flute Power. This album presents a remastered version. Burkhardt Lipp's commanding rock guitar supports Mac Dowell's dynamic flute interpretation. Flute Power Part 2 was originally released on the album Retrospective and is obviously the follow-
up to the title song of his debut album.
The classic theme Bouree by Johan Sebastian Bach is newly constructed by Mac Dowell with twenty flute overdubs from alto flute, bass flute, flute to piccolo flute. The guitar flute version was arranged by Peter Oehler, who teams up with Lenny on guitar, keys, bass and programming. Thai Stick Restaurant taken from Retrospective showcases the vivid rock side of this flutist.
Ain't No Sunshine, a song by Bill Withers from his 1971 album Just As I Am, gets a new treat on the flute. A great song for Mac Dowell to shine on full range. Radioactive in a live version with more than 10 minutes length starts with spherical synth and spacey flute sound reminding off the hippest 70's. Later the piece gets a rockish finish and speeds up.
New Velvet Things is a refreshment of the original jazz rock piece from the debut album Flute Power. Zeus B Held rules the master control on synthesizer. Flying Torso is a picturesque escapade in a dream world of flute and keys with a strong New Age influence. Waves XXL from the album Retrospective reveals the experimental approach to the flute. If you're looking for something meditative, you're in good hands with Golden Flute Tantra.
Locomotive Breath offers a good overview over the work range of the gifted flutist Lenny Mac Dowell.



Website
Buy the album in all stores

Album Information

Title: Locomotive Breath
Artist: Lenny Mac Dowell
Year: 2015
Length: 1:05:47
Genre: General Jazz
Label: Blue Flame Records


Tracks:
01 Locomotive Breath [4:06]
02 Flute Power Part 2 [5:26]
03 Bouree (Guitar Flute Version) [4:00]
04 Thai Stick Restaurant [7:03]
05 Ain't No Sunshine (Instrumental) [4:16]
06 Radioactive (Live) [10:22]
07 New Velvet Things [6:26]
08 Flying Torso (Live) [9:55]
09 Waves Xxl [6:39]
10 Golden Flute Tantra [7:32]




Further review:


Landscapes