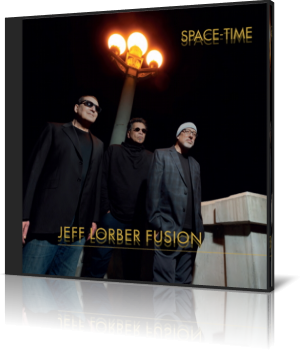 Keyboard wizard Jeff Lorber has already pressed his idea of fusion jazz into the black grooves with his group Jeff Lorber Fusion in various lineups. With albums like the self-titled debut album (1977), followed by Soft Space (1978), Water Sign (1979), Wizard Island (1980), and Galaxian (1981) he has served the spirit of contemporary jazz for decades..
He continued this glorious period with albums such as Now Is The Time (2010), Galaxy (2011), Hacienda (2013), Step It Up (2015), the GRAMMY awarded Prototype (2017), and Impact (2018). On the new album Space-Time (2021) Jeff Lorber is joined by his longtime friends drummer Gary Novak and bassist Jimmy Haslip.

Further supporting musicians are flutist Hubert Laws, guitarists Paul Jackson, Jr., Michael Landau and Robben Ford, saxophonists Bob Mintzer, Dave Mann, Gary Meek and Gerald Albright (on bass). Bob Mintzer is thus back as on the previous albums, just not on all the tracks. The album opens with the title song, a sparkling up-tempo tune showcasing Lorber's elegant keyboard play to the fullest. Lovers of Jeff's Rhodes performance will be enchanted. Bob Mintzer on tenor sax takes over the melody line to a perfect finish.
Back Room unites David Mann's superb horn arrangement with Lorber's powerful pulsed synth bass and virtuosic piano mastery. As extra enjoy Paul Jackson's otherworldly guitar solo. The strolling and swinging Sun Princess offers a soothing melody with the pearly sound of the Rhodes.

Mind Reader gives Lorber ample opportunity to work his magic on the piano. On the funky Memorex Gerald Albright plays the bass. This tune is Lorber's tribute to the pioneer of the audio tape.

Some call Louisiana, and New Orleans in particular, the birthplace and heart of jazz. The merging of many cultures and races led to a musical amalgam, which Jeff Lorber also takes into account with this piece.
Curiosity is the mindset that keeps musicians awake and inspires their willingness to be innovative. On this piece of music Jeff spreads his fingers in the direction of fusion jazz. With Chick, Jeff commemorates his old friend and genius Chick Corea, who shared a passion for fusion jazz with him and had a hand in shaping the genre for decades.
Day one is the only slow-tempo tune of the album. This allows the formation to bring the wide spectrum of emotionality into the music. Especially Michael Landau on guitar shows at this point his special talents.

On Truth, Jeff once again draws on the broad pool of his fusion jazz compositions, which take on a life of their own in the hands of his trusted collaborators. The album ends with a reprise of Memorex. In the process, Gerald Albright's bass playing is put in the spotlight.

With Space-Time, Jeff Lorber has once again found a promising middle ground between jazz fusion and melodic jazz. Thus, he does not leave the playing ground of serious jazz music and ensures the spread of his very own musical style.