Jeff Lorber Fusion - Now Is The Time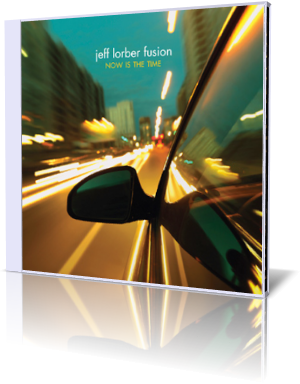 Most of the readers will know Jeff Lorber as the exponent of smooth jazz. Smooth jazz oriented releases like West Side Stories (1994), State of Grace (1996), Midnight (1998), Kickin' It (2001), Philly Style (2003), the side project Shades Of Soul (2004), 2005's Grammy nominated Flipside and Heard That (2008) are a strong sign for these activities.
But if you look into the past of this artist, you will find the other side of Jeff Lorber. Philly raised and Berklee educated, Jeff Lorber recorded his first two albums for Inner City records: The Jeff Lorber Fusion (1977) and Soft Space (1978), both have been re-issued. While Jeff Lorber received high accolades by his smooth jazz fans, there were still voices, who wanted the old Jeff Lorber back.
Now Is The Time (2010) is Jeff's fulfillment of this request. The albums is set for release on June 1, 2010, on Heads Up International, a division of Concord Music Group. Jeff's new formation is build by bassist Jimmy Haslip (who co-produced with Lorber and Bobby Colomby), saxophonist Eric Marienthal, trumpeter Randy Brecker, guitarist Paul Jackson Jr., and drummers Vinnie Colaiuta and Dave Weckl. All musicians are best known and well-respected.
"We all had a vision of what we wanted this record to be," says Lorber. "We wanted a return to the sound of the Jeff Lorber Fusion, but informed by everything I've learned since then. All of a sudden, people seem to be interested in hearing that again. They're ready to hear musicians who can really play, really stretch the envelope with their technique, with their songwriting, and with harmonic structure."
Let's explore Lorber's contemporary vision of fusion jazz. On Rain Dance/Wanna Fly Lorber gives us a déjà vu of his third album Water Sign (1979). Perhaps he was inspired by the cover song Crush On You (part of the glorious Unwrapped Volume 1) or by Lil' Kim's version. The world is tiny and it's legitimate to catch the notes flying in the air. Irene B's fresh vocals and Randy Brecker's warm trumpet sound are fantastic additions.
Dr. Moy is showcasing Lorber on Hammond B3 backed by a brilliant horn arrangement. Eric Marienthal adds his sax just on the point. I especially like the dynamic groove of this tune. When you love the retro sound of the Fender Rhodes, then Pixel is something for you. But Jeff alternates on piano and shows some of his breathtaking runs. Also superb the horn set.
Sugar Free is featuring anew the sweet singer Irene B. Hailing from Barcelona, Spain, she fosters the R&B scene with her album Metamorphosis, a production of veteran musician Frankie Biggz. The real step to fusion jazz is the next track Mysterious Traveler. This cover of Weather Report's hallmark track from their same-titled album (1974) is a honorable follow-up of Lorber, Marienthal and Haslip.
I don't know, who wins the prize for smooth performance on Curtains/Before We Go, Jeff Lorber on Fender Rhodes and synth or vocalist Irene B or sax player Eric Marienthal. Anyway it's very appealing. Black Ice is another jazz fusion piece taken from his album Lift Off (1985). It's a real appetizer to sniff around in Jeff's early fusion period. His performance on Fender Rhodes is outstanding.
Las Rosas brings some romantic in Jeff's album featuring Lorber on acoustic piano and Eric Marienthal on soprano sax. The fusion tune Chinese Medicinal Herbs (originally on Water Sign) was influenced by Joe Henderson's Gazelle. A further flash back into Lorber's early time, when smooth jazz wasn't on the turn table.
Jeff's remake of Water Sign is another keyboard excellence of the finest art, other musicians can only strive for. Irene B.'s vocal addition sweetens this delicious treat. Sumatra is the final curtain of this album with a funky approach to Jeff's fusion legacy.
Now Is The Time is the experience of a Jeff Lorber, many of his fans might have missed. An album full of delicate music of the best instrumentalists of our decade. Come on Jeff, we want more!




Buy the album in all stores

Album Information

Title: Now Is The Time
Artist: Jeff Lorber Fusion
Year: 2010
Length: 0:47:42
Genre: General Jazz
Label: Heads Up International


Tracks:

01 Rain Dance/Wanna Fly [5:23]
02 Dr. Moy [4:22]
03 Pixel [4:14]
04 Sugar Free [4:00]
05 Mysterious Traveler [3:57]
06 Curtains/Before We Go [4:56]
07 Black Ice [4:17]
08 Las Rosas [3:07]
09 Chinese Medicinal Herbs [4:49]
10 Water Sign [4:25]
11 Sumatra [4:11]


Further reviews: