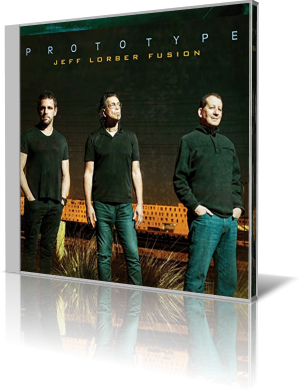 Jeff Lorber is the most sought keyboardist of the smooth jazz genre, but his heart is still beating for fusion jazz. Influenced by groups like Mahavishnu Orchestra, Weather Report and Return to Forever he founded the group Jeff Lorber Fusion and released in 1977 the self-titled debut album. Soon followed Soft Space (1978), Water Sign (1979), Wizard Island (1980), and Galaxian (1981).
After a period of solo albums he returned to his centerpiece with Now Is The Time (2010), Galaxy (2011), Hacienda (2013), and Step It Up (2015) on Heads Up Records. Prototype is his first album on Shanachie Entertainment. The new group consists of keyboardist Jeff Lorber, bassist Jimmy Haslip and saxophonist Andy Snitzer.
Jeff explains: "I came up with the name Prototype because we are always trying to up our game and come up with new exciting music that could be a prototype or innovative harbinger for the future of our musical style." The project begins with Hyperdrive, a horn driven funky loaded piece of excellence. The sonic fury of high speed jazz is the ultimate platform for Lorber's progressive fusion act.
Prototype gives some minutes of master class of syncopated splendor. Andy Snitzer on alto sax showcases his brilliance in contemporary jazz. Michael Thompson adds edgy and rock-like guitar riffs, while Lorber impresses with amazing versatility on piano and Rhodes. Test Drive reaches out with a Janus head of golden harmony and jazz rock power. The Hammond B3 flavored solo is nothing short of a stroke of pure musical genius.
What's the Deal breaks the speed record of Tower Of Powers' very own dynamic race. While artistic comparisons are inherently unfair to all parties it is safe to say that Lorber's group set a new reference. Vienna comes like a tribute to Joe Zawinul and his Weather Report with some bebop elements. Larry Koonse shows eclectic jazz evolution on electric guitar.
The term The Badness can be defined in this concrete case as intensity or virtuosity. Rhodes, Hammond B 3 in the center and the other instruments around, there is that special something, that we call spontaneous bliss, the indescribable feeling to experience a historic moment of transcendental greatness. Hidden Agenda is the special place of saxophonist Andy Snitzer, who masters all post bop elements with the type of flair and panache that some players spend an entire career searching for but never achieve.
I have used the description "tour de force" in several reviews. Gucci is simply the tune, which meets the essential requirements set by this term in every respect. Park West takes the more cerebral approach to contemporary jazz with a rodeo of brilliant musicianship. River Song lies outside the usual framework of contemporary jazz presented on this album. Most likely it can be described as a blend of smooth jazz and epic film music.
Prototype is destined to be talked about for years to come, at least until his successor. Jeff Lorber Fusion is at the climax of their musical career.