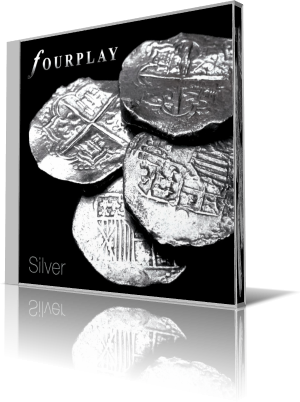 Fourplay celebrates this year their 25th anniversary. Their current members are keyboardist Bob James, drummer Harvey Mason, bassist/vocalist Nathan East and guitarist Chuck Loeb. Matching the jubilee the album is called Silver.
The individual album titles are related to this precious metal. As special guests the jubilarians invited Larry Carlton, Lee Ritenour, and Kirk Whalum. Additional musicians are vocalist Chris Wells, keyboardist John Beasley, organist Mitch Forman and synth player Tom Keane.
An established team that celebrates his music at the highest level mixed by veteran engineer and producer Don Murray. That is the way legends are created. Quicksilver, the liquid metal of mercury is starting the album in typical Fourplay style. Fluid, elegant, dynamic and with great verve.
American jazz pianist and composer Horace Silver (born Horace Ward Martin Tavares Silva) set milestones as a leader of the back-to-basics movement that came to be called hard bop. Horace is Fourplay's tribute to this pioneer of modern jazz. Sterling is an alloy of silver and copper but the song is pure Fourplay. Chuck Loeb expands an exquisite solo on his Sadowsky guitar. Moreover, the group attaches great importance to the emphasis on the atmospheric in this piece.
Taken from the proverb "every cloud has a silver lining" the group reveals their acoustic side in a quiet and gentle approach. Some call it unplugged, the others a chamber music. Silverado evokes the association of Eldorado in combination with silver. This up-tempo tune is featuring Larry Carlton on right side with Chuck Loeb on left side in a call and response session.
While Bob James usually is classified as a pioneer of smooth jazz especially through the formation Fourplay, his heart was and is always beating for contemporary jazz. This is noticeable on his composition Mine, which strongly moves into the jazz realm. On Silver Streak the formation presents the contrast between gloomy despondency and hope. During the transition of the band between Larry Carlton and Chuck Loeb saxophonist Kirk Whalum filled the orphaned chair of the fourth member on various events. Precious Metal features Kirk Whalum on tenor sax as a small thank.
Eastís Aniversario places his scat singing and his funky bass style in the middle of interest. Of course the other members deliver their precious contributions in addition. In 1987 Lee Ritenour released his album Portrait. Ritenour and Harvey Mason composed for this album the title song and Windmill. Fourplay and Ritenour revisit the song in their inimitable way.
With Silver the leading formation of melodious jazz builds their very own bridge between smooth and contemporary jazz. Although the album is a work of art of all band members involved, the music is tending in the direction of Bob James earlier albums. Sophisticated arrangements and ultrafine interplay are their most particular strength.