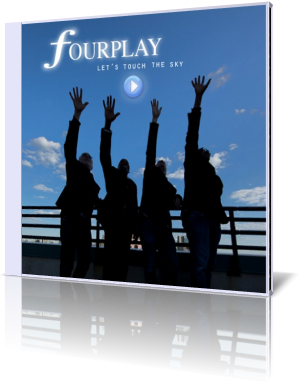 When a band deserves the title supergroup, than it's Fourplay. The group exists since more than 20 years. Their current members are keyboardist Bob James, drummer Harvey Mason, bassist/vocalist Nathan East and guitarist Chuck Loeb, who replaced Larry Carlton this year.
"All four of us have been in this business long enough to know that there's always pressure to compromise, and we don't want to do that," says James. "We don't want to end up in the middle of the pack. We always aim to be leaders, and take the music to another level and raise the standards higher. I think the music on this new record, thanks in large part to Chuck's early contributions – and to the ongoing team spirit of the band as a whole – is very much a reflection of that philosophy."
Their new album is entitled Let's Touch The Sky and an expression of this attitude. Bob James closes with the starting title song the gap to his own solo projects reflecting over the style of his early years and his fellow musicians follow him on this journey. Chuck Loeb excels on guitar in an exquisite ornamentation. Fourplay is back.
3rd Degree is Chuck's composition and dowry. Up-tempo, virtuosic and a mastery piece for all band members. When it comes to expand a melody, Harvey Mason shows his skills on the subtle More Than A Dream. My favorite however is Pineapple Getaway, foremost because of its flawless groove. A composer like Harvey knows exactly, what his friends like to play and you can feel the joy. I vote for the best song of the year!
The love ballad I'll Still Be Lovin' You features Nathan East as brilliant composer and singer. Bob James comments: "We're very excited about this song," says James, "and the confidence that Nathan had to jump into the mix between two other superstar vocalists and hold his own was quite impressive."
Gentle Giant is Bob James' tribute to the late Hank Jones, who passed this year. Bob tried to adapt his style in respect to his memory with an acoustic jazz quartet. Brazilian flavored humming in full swing, that is A Night In Rio.
Teddy Pendergrass' Love TKO finds a new personification by the mesmerizing crooner Rubben Studdard. The former American Idol winner has developed in his short career a significant vocal style. Above and Beyond is Chuck Loeb's second contribution tailored to his brilliant guitar performance bridging to his predecessors.
Golden Faders reveals Bob James' special position between jazz, contemporary jazz and smooth jazz. You never know in which direction the jam goes and the high improvisational potential of the group makes all possible. Final tune on the album is the love song You're My Thrill featuring Anita Baker. The band was impressed by her appearance on the JVC festival in 2009 and invited her to sing this classic song, which already attracted many jazz singers.
Fourplay are the stars in the contemporary jazz universe. Everybody can see them, but nobody can reach their mastery. These born musicians hopefully never stop playing.




Website

Buy the album in all stores

Album Information

Title: Let's Touch The Sky
Artist: Fourplay
Year: 2010
Length: 1:02:37
Genre: General Jazz
Label: Heads Up International


Tracks:

01 Let's Touch The Sky [5:23]
02 3rd Degree [5:07]
03 More Than A Dream [5:03]
04 Pineapple Getaway [5:53]
05 I'll Still Be Lovin' You [5:18]
06 Gentle Giant (for Hank) [6:00]
07 A Night In Rio [5:57]
08 Love TKO [4:31]
09 Above and Beyond [6:31]
10 Golden Faders [7:08]
11 You're My Thrill [5:47]


Further reviews:

Energy

Heartfelt

Journey


Interviews: