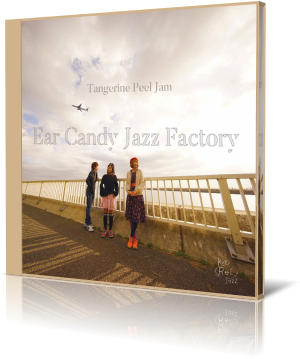 Ear Candy Jazz Factory is a Japanese trio consisting of pianist, producer and composer Rei Narita, the now 16 years old drummer Sato Kanade and the bassist Sakurai Naoko. Rei has already released the albums The Color Of Soundscape (2011) and The Color Of Soundscape II (2015). The group's debut album Tangerine Peer Jam was released in Asia in 2017 and is now also available in the rest of the world.
The name says it all. The three Japanese virtuosos offer a treasure chest of earwigs with their album. Tailwind starts a firestorm of sonic spryness and viability that is unparalleled. Urahara Cat Street surprises with a jam-like finesse of funk and contemporary jazz, while the vintage sound of the Hammond B3 gives the whole a special kick.
The mellow Monsoon in Crimson is a saxy excursion into the green zone of smooth jazz. Run Through the Urban City is another dynamic prove of the possibilities and abilities of the band. Soulful piano as par force hunt through the melody enthuses the audience. You will never expect behind the title The Feeling of Samurai a Latin enhanced Bossa Nova. The group takes up this rhythm and develops it into something vibrant.
Autumn Foliage is a hooky track with pulsating colors featuring Rei's seductive piano performance accompanied by the two female virtuosos. Rain in Space is a fictitious notion that speaks against all physical laws. On the other hand, it is a creative imagination that reflects the playful serenity of the piece.
Hack Your Way Through the Sky reminds me stylistically of the Jeff Lorber Fusion group featuring elements of fresh contemporary jazz with a steady bass rhythm. Younosuke Shimizu plays the soprano sax on the track in full elegance also drifting into jazzy attitude. Snow Kaleidoscope is musically stimulating with extensive spaces and a huge soulful arch of melody.
On Step into the Inside of Kyoto the lyrical power of the formation reaches flow and imagination of the Pat Metheny group in their early years, when harmony was still in focus. This compliment is by no means too high.
Ear Candy Jazz Factory's Tangerine Peel Jam is currently still an insider tip. Three musical greats have come together and created something almost amazing. It would be highly desirable for them to successfully make the leap into the International music market.





Buy the album in all stores

Album Information

Title: Tangerine Peel Jam
Artist: Ear Candy Jazz Factory
Year: 2019
Genre: Smooth Jazz
Label: Independent


Tracks:

1 Tailwind 4:35
2 Urahara Cat Street 5:31
3 Monsoon in Crimson 5:24
4 Run Through the Urban City 5:10
5 The Feeling of Samurai 4:52
6 Autumn Foliage 5:48
7 Rain in Space 5:47
8 Hack Your Way Through the Sky 4:58
9 Snow Kaleidoscope 5:17
10 Step into the Inside of Kyoto 4:58


Further reviews:

The Color of Soundscape