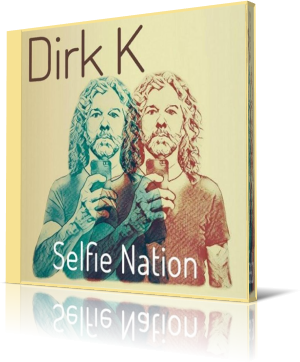 Dirk K, guitarist with German heritage, has a strong affinity for Latin jazz and smooth jazz. More than 16 solo albums, eight CDs with band projects and over 30 albums for other performers are a vivid testimony to his productivity. His newest project Selfie Nation (2019) is however a departure to new shores.
Dirk himself settles his new music on in the area of electronic dance music, jazz and world music and uses the adjective incongruous, ambient, peculiar. So let us prepare ourselves for the special. The length of the pieces, which are not at all adapted to the radio format, is already unusual. A rebellion?
Dirk K plays on the new album all instruments and is joined by David Inamine (bass) and Michael Joy (Wurlitzer, Rhodes and Mini Moog on Nothing Personal). Special guest is King Ibu on Selfie Nation (vocals and talking drum). Dirk has written Selfie Nation, all other songs are covers.
The song Sunny was written in 1963 by Bobby Hebb inspired by the death of his older Brother Harold and the death of JFK. The song is according to Wikipedia one of the most covered in music history. Even if you have heard the song a hundred times, Dirk manages to find a completely new approach with his version, which arouses the attention and enthusiasm of the listeners.
The introduction of Selfie Nation has a vocal hype in the style of Jonathan Butler but quickly turns out to be world music in Flamenco flair. Senegalese musician King Ibu is responsible for the African flavor with his great vocal personality and his percussion work. Both together create the magic of a summer hit.
Don Grolnick's composition Nothing Personal was originally released on Michael Brecker's self titled debut album in 1987. While Michael played sax, the guitar part was performed by Pat Metheny. Dirk transforms the straight ahead jazz version to an experimental art form, which reminds me of the early days of acid jazz with rashes to free jazz.
Another mile stone of jazz is Miles Davis So What from his ground breaking album Kind Of Blue (1959). Instantly recognizable from its introductory bass phrase. This phrase is also the central theme in Dirk K's interpretation enriched with own melodious excursions, modifications and alterations. The performance is broken up with African percussion episodes.
Dirk K must have fulfilled a personal wish with Selfie Nation. Away from the mainstream, he offers four pieces of music which, due to their structural differences, can hardly be recognized as a complete work. Considered as an expression of his overall personality, he places high demands on the acceptance of his listeners.





Buy the album in all stores

Album Information

Title: Selfie Nation
Artist: Dirk K
Year: 2019
Genre: Smooth Jazz
Label: Independent

Tracks:

1 Sunny 6:48
2 Selfie Nation (feat. King Ibu) 7:55
3 Nothing Personal 15:38
4 So What 7:01




Further reviews:

Quartet Equinox - Flamenco Jazz