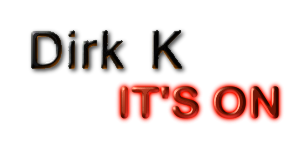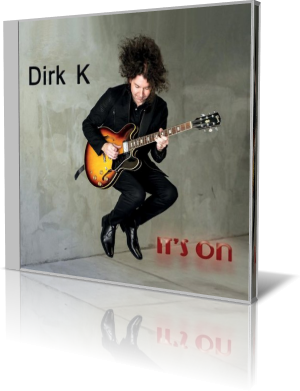 Two souls alas! are dwelling in my breast.
This cite from Goethe's Faust describes excellent Dirk K's split love of Flamenco jazz and smooth jazz. His current work comprises fourteen CD's as a solo artist, eight CD's with band projects and further 30 CD's for other artists such as Randy Brecker, Peter Erskine, Toots Thielemans, Dave Weckl, Brandon Fields, Alan Pasqua, Marc Johnson, Terri Lyne Carrington, Gary Meek, Rick Braun and many more.
His new project It's On is a return to the smooth jazz genre with five original compositions and five covers. Most of the instruments are played by Dirk. He is joined on several tracks by C.C. Thomas Jr. (bass), Deana Massaro-Williams (cello), Otto Ehling (Rhodes and Wurlitzer), and Dirk's son Philip Antony on saxophone and flute.
Dirk opens the album with Snap Jam, a fast pulsed drum machine-driven guitar piece. His extremely high level of guitar playing would have done well by the support of a prolific jazz drummer. On Toxic Dirk fondles to a slower sound, which allows him more expression and depth in processing the melody. Deana Massaro-Williams on cello supports the play with softly slides on the strings.
It can rightly be said, that Holding Back the Years remains Simply Red's most successful single. A gorgeous melody that demands respect to every musician. While Dirk spends his tribute showcasing his guitar mastery, the crackling pops as rhythm element speak another language. It's On is a captivating title song going straight into your blood. Such music grabs the audience.
Dirk's choice to cover Lovesong by the Cure is uncommon. Obviously it did to him the melody he gleefully spreads on his guitar. Funkytown is not a funk tune, but a massive hit of the disco genre by the band Lipps Inc. on their 1979 debut album, Mouth to Mouth. This to produce as a jazzy guitar piece, is a piece of bravura.
Dirk's own compositions do not need to hide. They are little gems. Dwee Dwee Ouh encourages you to dream and gives you time for leisure. Can O'Beats has a nice flow. Philip Antony sets in on soprano sax, very intuitive and empathic. He perfectly pairs with his father on Coming Home performing the flute. EWF's That's the Way of the World is celebrated in a casual way that calls for relaxation.
Dirk K presents with It's On a big gift basket full of ear-candy. Unforgettable melodies for the most beautiful hours.




Album Information

Title: It's On
Artist: Dirk K
Year: 2014
Length: 0:47:26
Genre: General Jazz
Label: DIP Records

Tracks:
01 Snap Jam [4:24]
02 Toxic [4:08]
03 Holding Back the Years [4:52]
04 It's On [4:10]
05 Lovesong [5:39]
06 Funkytown [4:28]
07 Dwee Dwee Ouh [4:39]
08 Can O'Beats (Featuring Philip Antony) [5:37]
09 Coming Home [4:13]
10 That's the Way of the World [5:15]







Further reviews

:

Dirk K Plays Antonio Carlos Jobim

Quartet Equinox - Flamenco Jazz