| | |
| --- | --- |
| Archive | |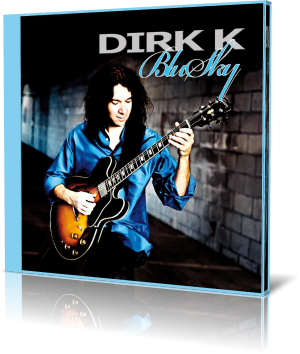 German-born and L.A. resident guitarist Dirk K has already released fourteen albums as a recording artist and eight albums in band projects, furthermore he worked on over thirty albums of other musicians. His newest album Blue Sky (2018) is available on his website.

With the exception of one cover, Dirk has written all tracks. The album is featuring C.C. Thomas Jr., Darryl Williams, Al Turner and Hussein Jiffrey on bass, Bill Zappia on keys, Andre D'Angelo on drums and Kurt Rasmussen on percussion. The title song was already released as single in 2015 and the song Change is Gonna Come as single in 2016.

Can't Let Go is the first strike on the new album. Dirk's performance is elegant and stylish, very self-assured and absolutely confident in the mastery of his instrument. A miraculous Blue Sky will transfer you in a good mood. It's exactly this positive atmosphere that Dirk brings with the song.

Dirk lures you with the wonderful ballad All There Was. The enchanting ambience of the melody, however, is given up in favor of various alterations that turn out to be bridges. Does Dirk address the reverb with the title of the next track Drop That? The piece comes more direct and faster. The song is altogether more daring, more avant-garde in entering the fusion area.

Fragile is a song written and performed by English musician Sting from his second studio album ...Nothing Like the Sun. While the original focuses on the fragility of human life, Dirk celebrates the joy of life in his Samba interpretation and breaks away from the melancholy. Jamaica 10 is a collaboration between Dirk and bassist CC. Thomas working the guitar in trademark fashion.

California is Dirk's jubilating ode to his new home region. With blistering guitar riffs Dirk continues his homage to the groove land. DaaFunk is Dirk's indulging in a taste of jazz funk. Bill Zappia delivers some "Steve Miller Band" flavor on organ. The slow Change Is Gonna Come has a passionate dream factor.

Sticks and Sand weave catchy hooks in and out following a repeating theme. Final tune of this album is a radio version of the title song. Not a big difference with just one second shortage.

Dirk K's unique voice of creativity and emotionality is his guitar. With Blue Sky he has reached an impressive level of mastery and should be a permanent fixture in the smooth jazz genre.




Buy the album in all stores

Album Information

Title: Blue Sky
Artist: Dirk K
Year: 2018
Genre: Smooth Jazz
Label: DIP Records

Tracks:

1. Can't Let Go (Dirk Kleutgens)
Dirk K - guitars, Fender Rhodes, keys
Al Turner - bass
Bill Zappia - piano, strings
Andrea D'Angelo - drums

2. Blu Sky (album version) (Dirk Kleutgens)
Dirk K - guitars, scat vocals, keyboards, drum programming
Darryl Williams - bass
Bill Zappia - Fender Rhodes, piano, strings
Kurt Rasmussen, percussion
Andrea D'Angelo - drums

3. All There Was (Dirk Kleutgens)
Dirk K - guitars, keys, drum programming
C.C. Thomas Jr. - bass

4. Drop That (Dirk Kleutgens)
Dirk K - guitars, keys, Mini Moog, bass fills, drum programming
C.C. Thomas Jr. - bass
Andrea D'Angelo - drums

5. Fragile (Sting)
Dirk K - guitars
Hussain Jiffry- bass
Bill Zappia - Fender Rhodes, piano, strings
Kurt Rasmussen - percussion

6. Jamaica 10 (Dirk Kleutgens)
Dirk K - guitars, keys, percussion programming
C.C Thomas Jr. - bass

7. California (Dirk Kleutgens)
Dirk K - guitars, keys, strings, percussion programming
C.C Thomas Jr. - bass
Andrea D'Angelo - drums

8. DaaFuunk (Dirk Kleutgens)
Dirk K - guitars, keys, Mini Moog bass, bass, drum programming
Bill Zappia - organ, Fender Rhodes
Andrea D'Angelo - drums

9. Change Is Gonna Come (Dirk Kleutgens)
Dirk K - guitars, vocals, Fender Rhodes, keys, drum programming
C.C Thomas Jr. - bass

10. Sticks and Sand (Dirk Kleutgens)
Dirk K - guitars, Rhodes fills, keys, Mini Moog, bass, drum programming
Bill Zappia - Fender Rhodes, strings, keys
Andrea D'Angelo - drums

11. Blu Sky (radio version) (Dirk Kleutgens)
Dirk K - guitars, scat vocals, keyboards, drum programming
Darryl Williams - bass
Bill Zappia - Fender Rhodes, piano, strings
Kurt Rasmussen, percussion