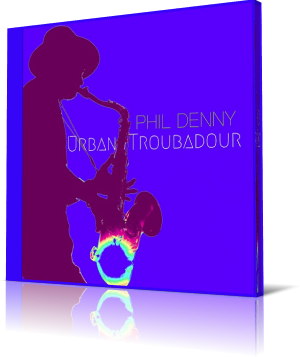 Saxophonist Phil Denny was in the recent time active as promoter for numerous events. Since the Corona pandemic these activities are reduced to a minimum. A good opportunity to work on a new project. Phil has already released four albums. Crossover (2012), The Messenger (2013), Upswing (2015) and Align (2018). His newest project is Urban Troubadour (2020), an EP with five originals and one cover.
Phil Denny is joined on his new album by Michael "Big Mike" Hart Jr. (guitar, bass, programming), Greg "Buddy Bangs Reed Jr. (keys, programming), Matt Godina (keys, guitar, programming), Eric Valentine (drums), Ryan Montano (muted trumpets), Adam Hawley (keys, guitar, programming), Mel Brown (bass), Ramon Yslas (percussion), Marcus Anderson (alto sax, flute), and Matt Cusson (vocals).

The album opens with Urban Troubadour. A troubadour was a composer and performer of Old Occitan lyric poetry during the High Middle Ages. Especially in Germany this early composer of love ballads were called Minnesinger. Phil performs his saxophone with similar fervor, enticing and emotional. Michael "Big Mike" Hart Jr. and Greg "Buddy Bangs Reed Jr. create the hip sound environment with strings, funky rhythm guitar and key programming.

Together with the above mentioned musicians Phil also creates the love ballad Around The Block with a high-stepping vibe in hip-hop style. The heavy beat also accompanies us on Lifted, a production in collaboration with Matt Godina. Phil presents on this stomping mover the heartfelt sound of his soprano sax.

On Tough Get Goin' Phil unfolds the entire range and sound spectrum of his tenor saxophone in overdub mode. The punchy impression is further enhanced by a selected team of professional players like Adam Hawley, Mel Brown, Eric Valentine, and Ramon Yslas. An unique sound note brings Ryan Montano on muted trumpet into play.

On the cover of the album Phil wears a wide black brim hat. He follows the example of guitarist Nick Colionne or saxophonist Boney James who wear on their performances these snazzy Black Brim hats too. That tune is a tribute to this striking garment. Final tune of this project is a cover of What's Love Got To Do With It, a GRAMMY awarded hit recorded by the American singer Tina Turner, released in 1984 from her album Private Dancer. Interpreted by lead singer Matt Cusson, whose timbre is Tina-like, the instrumental arrangement with Marcus Anderson on flute and Phil on sax and EWI is overall appealing and on point.
Phil Denny's new album Urban Troubadour delivers a kaleidoscope of electrifying melodies and killer grooves. This is the perfect realization of everything that makes good smooth jazz.




Buy the album in all stores

Album Information

Title: Urban Troubadour
Artist: Phil Denny
Year: 2020
Genre: Smooth Jazz
Label: Off-Sheet Music

Tracks:

1) Urban Troubadour (3:45)
2) Around The Block (3:42)
3) Lifted (4:19)
4) Tough Get Goin' (4:43)
5) Black Brim (4:12)
6) What's Love Got To Do With It (4:01)




Further reviews:


The Messenger