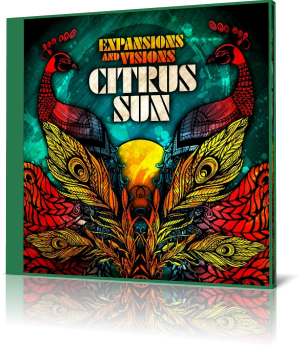 Jean-Paul 'Bluey' Maunick's creative power is inexhaustible. Even though his main focus is the group Incognito, he still finds time for his side projects, which include Citrus Sun. Besides Bluey his group consists of keyboard player Matt Cooper, bassist Francis Hylton, guitarist Francisco Sales and drummer Francesco Mendolia. The group is completed with guitarist Jim Mullen, trumpet player Dominic Glover, the vocalists Noel McKoy, Valerie Etienne, Hazel Fernandes and Deborah Bond and finally harmonica player Rega Dauna.
Expansions And Visions is the fourth album of the group, scheduled for release August 14, 2020. The album was recorded in London and Thailand, whereby Bluey ingeniously combined tourist relaxation with record production.
The album opens with Expansions, a track that could easily be located in the 70s. Indeed the original is an album by keyboardist Lonnie Liston Smith, featuring performances recorded in 1974. Unbridled, it tests the limits of the possible, takes up the challenge of virtuosity and at the same time devotes itself to the freedom of music.

We need A Lust for Life especially in these dark times and so Bluey's music also serves as an emotional brightener. Rega Dauna gives a new instrumental face to the piece's effervescent liveliness. While Dominic Glover on trumpet and Francisco Sales on guitar can easily follow the geniality of the new instrumental star.
The song California Soul was written by Nickolas Ashford and Valerie Simpson and was first released by The Messengers in 1967. Well known cover versions are from Marvin Gaye and Tammi Terrell, and the 5th Dimension. Bluey's rendition features Noel McKoy, with background vocals from Jamiroquai's Valerie Etienne and Hazel Fernandes. With the wild power of Noel's voice alone, Bluey draws lost terrain from the originality of the 70s, which seemed to have been lost in the washing drum of adapted chart music.

Diamond in the Sun is a shorter interlude limited to the purpose of the transition. Bluey has a deep connection to the late singer legend Leon Ware. During the Japan tour both had several appearances at Blue Note Tokyo in August 2012, where Leon as special guest performed his song I Want You which was taken by Marvin Gaye for his same named album in 1976. Stay You is Bluey's tribute to his friend, who had died too soon.
Amando O Velho Mundo (Love The Old World) is a percussion driven instrumental piece with a Latin twist and the well-rehearsed keyboard player Matt Cooper who likes to show his jazzy side. Hard Boiled is the first single of Citrus Sun taken from the new album. Featured are Dominic Glover on trumpet, Jim Mullen on guitar and introducing 22-year-old Indonesian harmonica player Rega Dauna who gives the song a certain Stevie Wonder flavor.
Hey Now is a cautious criticism of Bluey for mankind's overexploitation of nature. He would much rather spend his time in the natural forest than on a NASA built condo on mars. Future Visions shows two facets as an instrumental piece, whereby the repetitive element is used as a stylistic device.

Back To Wonderland is composed by Rega Dauna and Matt Cooper, on which both also show their multi-instrumental side. In addition to the syncopated rhythm, the harmonica as lead instrument also influences the style. The final Samba flavored Thinking Of You presents new Haven, Connecticut born singer Deborah Bond in a duet with Bluey. Vocally both harmonize perfectly, no wonder because Deborah has already had several performances with Incognito.

With Expansions and Visions Bluey again delivers an impressive variety of exciting music of different styles, which shows that Bluey is still on the ball. From a worldwide network and with proven players, he creates the inimitable and engaging dynamics that originate from his bighearted personality.





Buy the album in all stores

Album Information

Title: Expansions & Visions
Artist: Citrus Sun
Year: 2020
Genre: Acid Jazz
Label: Dome Records Ltd


Tracks:

1) Expansions (7:29)
2) A Lust for Life (5:29)
3) California Soul (3:52)
4) Diamond in the Sun (1:14)
5) Stay You (4:45)
6) Amando O Velho Mundo (4:36)
7) Hard Boiled (6:09)
8) Hey Now (5:18)
9) Future Visions (3:41)
10) Back to Wonderland (7:24)
11) Thinking of You (5:52)



Further Reviews:

Another Time Another Space

People Of Tomorrow

Ride Like The Wind