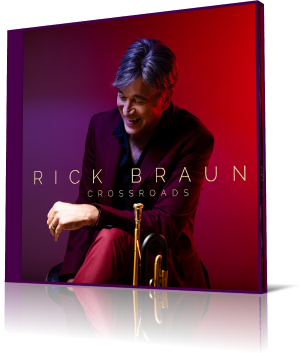 A brilliant cover photo says a lot about the illustrated musician. Rick Braun made it. He is at the height of his musical career both as a soloist and as an accompanist. His new album Crossroads (2019) is his second album on the prestigious label Shanachie Entertainment after Around The Horn (2017).
His popularity in musical circles and his high degree of awareness allow him to access a large pool of colleagues. Keyboardists Philippe Saisse and Greg Phillinganes, guitarists Peter White and Michael Thompson, bassist Nate Phillips, sax man Richard Elliot, drummer Eric Valentine and Gregg Bissonette, and percussionist Richie Garcia are welcomed guests on his album among many others.
The introducing Around The Corner is committed to Braun's daughter Emma to which he dedicates songs on many albums. Braun cleverly takes advantage of Herb Alpert's Tijuana brass style by overdubbing his horn with very slight delay in order to create the illusion of a full brass section.
Brazz Street is the result of a collaboration between Braun and producer and keyboardist Chris "Big Dog" Davis featuring Braun's muted trumpet in a fine-tuned horn arrangement with an excellent bass solo by David Dyson.
The title song Crossroads is a full-bodied song that Rick Braun recorded with his long-time friend Philippe Saisse. Meaningful in the quality of old Bob James evergreens. The Moment I Saw You is romantic music carrying you away into a better world. Rick's splendid rendition of Stevie Wonder's I Wish delivers a powerful mixture of acid jazz with big band brass. Rick Braun and Richard Elliot, better known in this combination as RnR, are shining as horn section and also as solo artists.
Me and You celebrates the meeting of the smooth jazz giants Rick Braun and Peter White in a Christmassy sounding melody. With Family Rick Braun cheers for the most precious thing in his life, his one and only. Bahia is the Portuguese word for bay. Based on a shuffling Samba beat Rick and Philippe create their Brazilian dream.
Come With Me is inspired by the brass harmonies of EWF. Versace on the Floor is a song by American singer Bruno Mars from his third studio album, 24K Magic (2016). Rick's interpretation is of noble tonality, which is due to the sustained nature of the flugelhorn. Rick' son Kyle introduces into the song with a lyrical piano intro.
Rick Braun's album Crossroads serves an accessible palette of music, which is both addictive and of exquisite quality. The product of many years of experience and the knowledge of that certain something.






Buy the album in all stores



Album Information



Title: Crossroads
Artist: Rick Braun
Year: 2019
Genre: Smooth Jazz
Label: Shanachie Entertainment Corporation

Tracks:

1 Around the Corner 4:22
2 Brazz Street 4:42
3 Crossroads 4:50
4 The Moment I Saw You 4:26
5 I Wish 4:42
6 Me and You 4:32
7 Family 5:11
8 Bahia 5:11
9 Come With Me 3:54
10 Versace On the Floor 4:53





Further reviews:

Around The Horn

Sings With Strings

Sessions Vol. 1