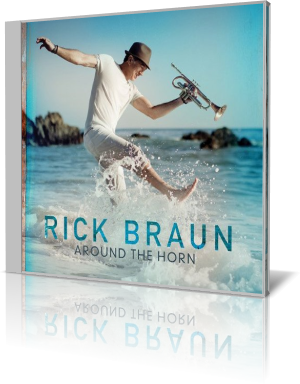 Trumpet player Rick Braun is one of the most popular musicians of the smooth jazz genre. After his previous escapades to Holiday Jazz (Swingin' In The Snow) and Swing (Sings With Strings) he returned to smooth jazz with Can You Feel It. Around The Horn (2017) holds the horns tighter than tight.
Guest musicians on the new album are John Stoddart (keys, vocals, synth bass), Gerey Johnson, Peter White (guitar), Third Richardson (drums), Lindsey Webster (vocals), Til Brönner (trumpet), Ron Reinhardt (keys, bass), and Kenny Wild (bass). Rick performs trumpet, flugelhorn, valve trombone, keys and synth bass.
The album starts with the bright and breezy So Strong. A Latin flow with some Jobim/Mendes and Herb Alpert feeling and a flavored turn around some Tower Of Power harmonies.
Pool Dancer connects to Rick Braun's previous album with a funky attitude. A combination of flugelhorn and muted trumpet mingled in some snappy bebop flavor with greetings to Miles Davis. The ballad Love Take Me is featuring rising vocal star Lindsey Webster, who caused furor at the Smooth Jazz Festival in Germany.
We Don't Talk Anymore is a song produced and performed by American singer Charlie Puth from his debut studio album Nine Track Mind (2016) with guest vocals from Selena Gomez. Rick's cool rendition presents an acoustic guitar solo by Peter White. Everything Is Alright is a groovy collaboration between Braun and Stoddart with flash and substance and a little Papa Was A Rolling Stone in the finish.
In Common is a cover of Alicia Keys' song from her album Here (2016). The electro-dance rhythm of the original is working full steam, while Rick adds a rousing horn section with trumpet, flugelhorn, and valve trombone. I Love You More comes softly and fluffy with John Stoddart's immaculate phrasing and vocal technique.
On Around the Horn German trumpet player Till Brönner grabs Rick's flare torch and carries the song together with him to the next level of horn evolution. Vila Vita was inspired by a trip Braun spent with his family at Christian Bössner's Smooth Jazz Festival in Portugal. "It was one of the most amazing experiences," recalls Braun. "I was working on the record and played some of the songs on a rooftop balcony that we had. I felt like there needed to be a song for the beautiful experience that I had in Portugal and Vila Vita is it." Who else than Peter White on acoustic guitar can add the necessary Mediterranean flavor.
Yellow is a song by the British alternative rock band Coldplay from their debut album, Parachutes (2000). Rick makes out of a melodious rock pop song something extraordinary. One South Beach Night is a musical glimpse at the legendary night life with the widest array of options finding your inner bliss and exploring the action.
Rick Braun's new album Around The Horn is the focal point of all innovative and creative in his contemporary work.




Website


Buy the album in all stores

Album Information

Title: Around The Horn
Artist: Rick Braun
Year: 2017
Genre: Smooth Jazz
Label: Shanachie Entertainment


Tracks:

1 So Strong 5:03
2 Pool Dancer 4:20
3 Love Take Me (feat. Lindsey Webster) 5:16
4 We Don't Talk Anymore (feat. Peter White) 4:03
5 Everything Is Alright 4:38
6 In Common 4:22
7 I Love You More 5:10
8 Around the Horn (feat. Till Brönner) 4:57
9 Vila Vita (feat. Peter White) 4:26
10 Yellow 4:48
11 One South Beach Night 5:10




Further reviews:


All It Takes

Sings With Strings

Sessions Vol. 1

Swinging In The Snow