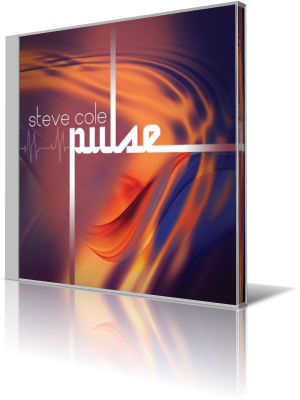 Coming from the Chicago club scene Saxophonist Steve Cole started his solo career with the Brian Culbertson-produced Stay Awhile (1998), followed by Between Us (2000), NY LA (2003), Spin (2005), True (2006), and Moonlight (2011).
His newest released is entitled Pulse and will be released in September, 2013 on Mack Avenue Records' Artistry Music. This album is a collaboration of Steve Cole and David Mann (sax, flute, keyboards, synth bass, programming). Further musicians are Ricky Peterson (Hammond B3), Nicholas Cole (keyboardist, synth bass, programming), Khari Parker (drums), Paul Peterson (electric bass), Rico McFarland (guitar, lead & background vocals), Bernd Schoenhart (guitar) and Nicki Richards (background vocals).
With the introducing title song Steve teams up with the horn group of Trevor Neumann (trumpet), Dan Levine (trombone) and David Mann (sax). Together they harmonize the sound and are keeping pace with the times.
Remember the soulful time, when The Rascals performed Groovin' On A Sunny Afternoon and you know the heritage and spirit of Do Your Thing. With You All The Way that are feelings intended to never end. A theme for the romance in you.
What is the idea behind Slinky? Let's get funky like the Average White Band. This start with the guitars, goes over to Peterson's Hammond B3 and ends in the funky horns. Going in Circles is a song written by Jerry Peters and Anita Poree, and originally performed by The Friends of Distinction on their 1969 album Grazin′. Covered numerous times by other artists Steve Cole stands in a row with Isaac Hayes and Luther Vandross.
The tight horn filled Looking Up offers smoking sax well served with trombone and trumpet. Fellow sax player David Mann sets own accents with Maximum Cool. Due to the similarity in tone and intonation, both saxophonists produce a perfect blend. With Minty Fresh Mint a strong wind blows through the melody.
Ain't No Love In The Heart Of The City is the second cover of the album. The song was originally created by Michael Price and Dan Walsh. Cole presents the song with much fervor. Final tune of the album is the David Mann composition Believe. His distinctive lush harmonies remind me of Chicago Transit Authority's successful pieces.
Steve Cole's new album Pulse shows that this saxophonist is still standing in development. Surely he is strongly influenced by David Mann. But change always has something positive. His large fan base will receive this album gratefully.




Biography

Website


Buy the album in all stores

Album Information

Title: Pulse
Artist: Steve Cole
Year: 2013
Length: 0:43:30
Genre: Smooth Jazz
Label: Mack Avenue Records


Tracks:
01 Pulse [3:56]
02 Do Your Thing [4:33]
03 With You All The Way [4:20]
04 Slinky [4:10]
05 Going In Circles [4:57]
06 Looking Up [4:27]
07 Maximum Cool [3:57]
08 Minty Fresh [4:39]
09 Ain't No Love In The Heart Of The City [4:01]
10 Believe [4:31]