| | |
| --- | --- |
| Archive | |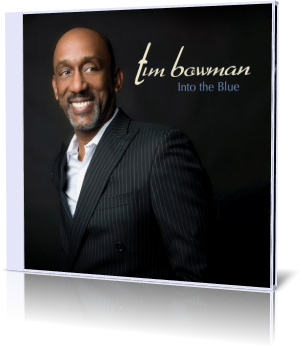 Detroit based jazz guitarist Tim Bowman always followed his own way to musically express his feelings and ideas. Since his debut album Love, Joy, Peace in 1995 he constantly makes his contribution to the smooth jazz world. With his albums Paradise (1998), Smile (2000), This Is What I Hear (2004), Tim Bowman (2008) and The Collection (2010) he delivered gratefully accepted gifts to his fan community.
After a longer hiatus he returns this year with Into The Blue on I.M. Records / Purpose Jazz, scheduled for release September 8th, 2017. The album is brimming with greater and catchier songs as if Tim would compensate his fans for the long absence. The Darren Rahn produced City Lights is the first single of the album presenting Tim on guitar in an exhilarated mood. His passion for melody finds its aptly expression in Benson-esque guitar chords.
The awesome song All I Need Is Love features vocalist Stokley Williams, best known as the lead singer and studio drummer of the band Mint Condition. He already graced with his vocal appearances Boney James' Either Way (Futuresoul) and U-Nam's Nature Boy (Weekend in L.A.). On Into The Blue Tim Bowman enunciates each note with absolute perfection. A third force to Peter White and Marc Antoine.
The interlude Hello is a musical greeting on acoustic guitar. Tan Hermosa (So Beautiful) is a melodic gem created in cooperation with producer and keyboardist Dana Davis, who already left a sparkling trace on several of Tim's earlier albums. Amazing Grace Party is a boosting medley of the popular Gospel songs Amazing Grace and Wade in the Water featuring beside his band especially the voice of Tim Bowman Jr. in all its youthful freshness.
Detroit Funk is a collaboration of TMC that includes Bowman, former Pleasure guitarist Marlon McClain, and Cordell Walton, musical director for Charlie Wilson. A heavy dose of funk in the traditional sense. On the love ballade My Heart To You Tim picks up again his nylon string guitar, which perfectly fits to the romantic atmosphere of Angela Johnson's lovely voice. "It's just more of a melodic, romantic instrument to me because of the tone of it," Tim admits.
Of course, this does not mean the romantic features are missing in an electric guitar, as he proves on the funky Boss. Heartfelt love ballads run right through the album like a red thread. Love Forever More is another red rose on acoustic guitar dedicated to his wonderful wife.
The second interlude Madrid combines sounds of the Spanish capital city with a Latin flavored guitar. Since his album Serenity we waited for a life sign of saxophonist and producer Randy Scott. On Travelin' Road he and Tim glisten with great eloquence and proficiency. The horn arrangement is absolutely stunning.
You Are was a hit by Charles Kent "Charlie" Wilson, the former lead singer of the Gap Band. The song was released in 2010 on his Grammy nominated solo album Just Charlie. Tim presents his personal in Rainbow colors swinging rendition with Elan Trotman as featured saxophonist. Seaside Drive allures with an enchanting anthem for all West Coast car drivers. Goodbye is Bowman's acoustic farewell.
On Tim Bowman's Into The Blue good vibes are guaranteed. His musical creativity and guitar mastery will blow you away.

Pre order Tim Bowman's album "Into the Blue" http://smarturl.it/intotheblue



Buy the album in all stores

Album Information

Title: Into The Blue
Artist: Tim Bowman
Year: 2017
Genre: Smooth Jazz
Label: I.M. Records / Purpose Jazz


Tracks:

1 City Lights 4:13
2 All I Need Is Love (feat. Stokley) 4:24
3 Into the Blue 4:29
4 Hello 0:41
5 Tan Hermosa (So Beautiful) 4:16
6 Amazing Grace Party (feat. Jonathan DuBose Jr. & Tim Bowman Jr.) 5:16
7 Detroit Funk (feat. TMC) 4:31
8 My Heart To You (feat. Angela Johnson) 3:16
9 Boss 4:27
10 Love Forever More 4:50
11 Madrid 1:15
12 Travelin' Road 4:35
13 You Are (feat. Elan Trotman) 4:14
14 Seaside Drive 3:56
15 Goodbye 1:02


Further reviews:


Tim Bowman