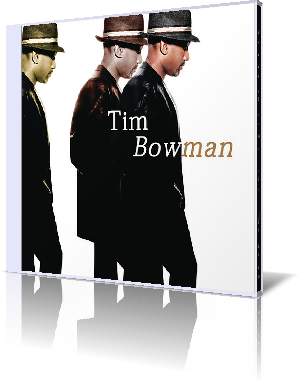 Hailing from Detroit heading to joy and worship Tim Bowman started his career as musical director and lead guitarist of famous group The Winans. After his departure in 1987 he focused his life on recording his own music. His debut album Love, Joy, Peace (1996) quickly peaked the charts. With the following albums Paradise (1998), Smile (2000), This Is What I Hear (2004) and his self-titled CD (2008) he fostered his huge fan base.
We have to wait some time for his next album. So let's listen to his latest one. Tim Bowman assembled a brilliant cast of musicians on his album. Freddie Fox (rhythm guitar), Mel Brown (bass), Mike Broening (piano), Darren Rahn (sax, organ, keyboards), Jeff Lorber (piano), Najee (sax), and Kirk Whalum (sax) are among this great list of musicians.
Sweet Sundays fulfills your guitar dreams with catchy licks and chords. The song topped the charts for two weeks, staying there more than five months. The combination of elegant guitar style and hooking melody is irresistible.
High Def witnesses the inspirational cooperation between Grammy-awarded producer Michael Broening and Tim Bowman guitar genius. For You My Love showcases another facet of Bowman's music. Produced by Randy Scott, who also performed all other instruments, this song is an acoustical highlight. A record producer, composer and musician proficient on all musical instruments, Randy Scott has performed and/or recorded with Michael Powell, Grover Washington Jr. and many more.
Motor City Shuffle runs the whole gamut of sounds of Detroit's sophisticated nightlife. This pulsing beat let you dance. Sunset rides the Spanish wave. The Gift is dedicated to Tim Bowman's mother. A romantic and heartfelt ballade played by Tim and Kirk Whalum with great emotion.

All I Need Is You features R&B singer Tim Bowman jr. as new vocal wonder. A worthy addition to Tim's project. On The Flyyy showcases another rising star of the smooth jazz scene, producer and saxophonist Darren Rahn. While on this song the merits for production go to Randy Scott, we can await a lot of goodies from Darren in the near future.
A signal in this direction is Steppin', on which Darren's sax sounds like a fanfare. Tim Bowman plays his guitar like a Dervish. Fantastic! When we speak about flow, then Soul Dream is the song of choice. Sweetness has a new sound, Rapture featuring Najee. When Jeff Lorber goes into the ring, you can always await greatness. Mr. B rocks!
We don't have to discuss it. Tim Bowman's self-titled album is solid smooth jazz in a perfection that shines. Hopefully we haven't to wait for his next album four further years.




Website

Buy the album in all stores



Album Information

Title: Tm Bowman
Artist: Tim Bowman
Year: 2008
Length: 0:52:19
Genre: Smooth Jazz
Label: Trippin 'n' Rhythm Records


Tracks:

01 Sweet Sundays [3:46]
02 High Def [4:54]
03 For You, My Love [4:03]
04 Motor City Shuffle [4:13]
05 Sunset [4:10]
06 The Gift - Tim Bowman & Kirk Whalum [3:53]
07 All I Need Is You - Tim Bowman & Tim Bowman Jr. [4:41]
08 On The Flyyy - Tim Bowman & Darren Rahn [4:09]
09 Steppin' [3:48]
10 Soul Dream [5:03]
11 Rapture - Tim Bowman & Najee [5:01]
12 Mr. B - Tim Bowman & Jeff Lorber [4:39]