| | |
| --- | --- |
| Archive | |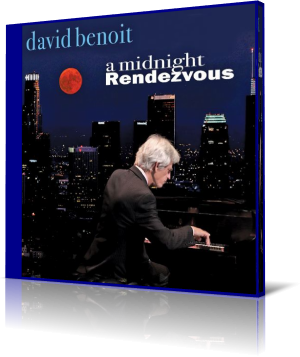 After a musical career spanning more than 40 years, pianist and composer David Benoit can rightfully be called a legend. He has always eluded stylistic classification, yet his works circle between contemporary jazz, smooth jazz and jazz. Thus, his new album A Midnight Rendevous, which will be released on February 18, 2022 on Shanachie Entertainment, also offers a colorful bouquet of melodies of different styles.
The album is one of those rare today, which with concentrated manpower, implement his musical ideas. Details of the musicians involved in the recording can be found in the credits. To top it all off, the album closes with three recordings made with a big band under Benoit's direction.
The theme of the midnight hour has already occupied Benoit with his famous album and song Freedom At Midnight (1987) and has not let him go since. Thus, tying in with this, he opens his album with the title A Midnight Rendezvous. Berry Gordy, legendary founder of Motown Records loved jazz, smooth harmonies, pretty melodies: "When I heard the song, I clapped my hands and thought: My Goodness!" In effect David Benoit has written such a hit with this new song, that immediately puts you under its spell.
On Pioneer Town David meets keyboardist Jeff Lorber who not only accompanies David's superb piano performance with discreet keyboard sounds and his well-known synth bass, but also refines it in a nuanced way.
The Bones is a very attractive song by American singer Maren Morris for her album Girl (2019). Regardless of the profound and uplifting lyrics, the melody deserves a very own autonomy, perfectly staged by David Benoit and his friends.

With Floating David Benoit returns to the realm of melodious contemporary jazz which hides a story for which storyteller David Benoit is so well known. Justin Klunk sets some smooth accents on soprano sax. Long Journey Home, a collaboration with bassist Roberto Vally, spreads the aura of a crime film score.
The soulful @Home is anew dominated by Justin Klunk's soprano sax who skillfully accompanies David's thoughtful piano playing. Dave Koz has written You Make Me Smile for his album Lucky Man (1993) and presented a fresh version on his album Live From The Dave Koz Cruise (2019). David takes on the theme in his very own way, internalizing it in his contemplative piano playing.
The album closes with three pieces that show the most diverse facets, but have one crucial thing in common. The orchestral buildup in a big band arrangement that seamlessly follows the great big band days of the 50s.
David Benoit stays true to himself and his style with A Midnight Rendevous and offers his loyal fans exactly what they expect from him. This is what makes him so successful over the many years.




Buy the album in all stores

Album Information

Title: A Midnight Rendezvous
Artist: David Benoit
Year: 2022
Genre: Smooth Jazz
Label: Shanachie Entertainment Records


Tracks:

1. A Midnight Rendezvous
2. Pioneer Town
3. The Bones
4. Floating
5. Long Journey Home
6. @Home
7. You Make Me Smile
8. Generations
9. Waiting For Spring
10. Cabin Fever



Credits:

1. A MIDNIGHT RENDEZVOUS
(David Benoit/David Benoit Music - BMI, Roberto
Vally/Carnevali Music - ASCAP)
Pat Kelley-Acoustic Guitar
John "JR" Robinson-Drums
Roberto Vally-electric Bass, Sequencing
David Benoit-Piano

2. PIONEER TOWN
(David Benoit/David Benoit Music – BMI, Jeff Lorber/Songs
Of Lorb - ASCAP)
Jeff Lorber-Keyboards
John "JR" Robinson-Drums
Ben Williams-Bass
MonoNeon-Bass
David Benoit-Piano

3. THE BONES
(Maren Morris, Jimmy Robbins, Lauren Jeanne Veltz/Big
Machine Music – International Dog Music – BMI, Purple
Hayes Publishing Worldwide - BMI, Warner Tamerlane Publishing
Corp - BMI)
Luis Conte- Percussion
John "JR" Robinson-Drums
Roberto Vally-Electric Bass
David Benoit-Piano, Rhodes, Hammond B3

4. FLOATING
(David Benoit/David Benoit Music - BMI)
Justin Klunk-Soprano Sax
Dan Schnelle- Drums and Percussion
Roberto Vally-Acoustic Bass
David Benoit-Piano, Rhodes

5. LONG JOURNEY HOME
(David Benoit/David Benoit Music – BMI, Roberto
Vally/Carnevali Music - ASCAP)
Justin Klunk-Soprano Sax
John "JR" Robinson-Drums
Roberto Vally-Electric Bass, Sequencing
David Benoit-Piano, Keyboards

6. @HOME
(David Benoit/David Benoit Music - BMI)
Justin Klunk-Soprano Sax
Luis Conte-Percussion
Dan Schnelle-Drums
Roberto Vally-Acoustic Bass
David Benoit-Piano, Rhodes

7. YOU MAKE ME SMILE
(Dave Koz/Just Koz Music – BMI, Jeff Koz/Koz Music -
BMI)
David Benoit-Piano

THREE BIG BAND TRACKS

8. GENERATIONS
(David Benoit/David Benoit Music - BMI)

9. WAITING FOR SPRING
(David Benoit/David Benoit Music - BMI)

10. CABIN FEVER
(David Benoit/David Benoit Music - BMI)

Big Band Personnel:

Eric Marienthal-Alto sax, Contractor
Sal Lozano-Alto Sax
Gordon Goodwin-Tenor Sax
Jay Mason-Baritone sax
Wayne Bergeron-Trumpet
Dan Fornero-Trumpet
Dan Rosenblum-Trumpet
Francisco Torres-Trombone
Charlie Morillas-Bass trombone
Dan Schnelle-Drums
Roberto Vally-Acoustic Bass
David Benoit-Piano, Conductor, Arranger, Orchestrator
Kei Benoit, June Benoit-Music Preparation

Further reviews:


Earthglow