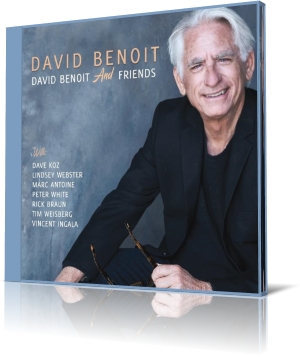 Pianist and composer David Benoit has dedicated his new album David Benoit and Friends (2019) to his fellow musicians. Collaborations with other musicians are nothing new for David. Legendary is his partnership with Russ Freeman, which includes the albums The Benoit/Freeman Project (1994) and The Benoit/Freeman Project 2 (2004). David Benoit and Jane Monheit teamed up for 2 in Love (2015). Guitarist Marc Antoine and pianist David Benoit were the surprise packet of the year 2017 with So Nice!
On his new album David Benoit invites Peter White, Marc Antoine (acoustic guitar), Tim Weisberg (flute), Lindsey Webster (vocals), Dave Koz (alto sax), Rick Braun (trumpet), Vincent Ingala (soprano sax), Justin Cheung (cello). The rhythm section encompasses David Benoit (piano, Fender Rhodes, Hammond B3), JR Robinson (drums), Ken Wild (electric and acoustic bass), Luis Conte (percussion), Pat Kelly (guitar), the horn section Mike Cottone and Jamey Havorka (trumpet), Erm Navarro (trombone).
Jane Hawk is a novel character by the American author Dean Koontz, which he has portrayed in a series of 5 books. With a cinematic orchestration David sketches on Ballad of Jane Hawk his imagination supported by Peter White on the acoustic guitar and Tim Weisberg on the flute.
The swaying Bossa Nova song Make It Real is an acoustic highlight featuring David on piano, Ken Wild on acoustic bass and America's new vocal miracle Lindsey Webster. If comparisons are allowed I would call this formation a noble version of Matt Bianco.
Vernazza is a small fishing village picturesquely situated on a peninsula on the Ligurian coast of northern Italy. With this piece David processes his holiday memories from the last year, whereby the romantic aspect is brought across very beautifully by Dave Koz on the alto saxophone.
Alec Wilder's 1941 Moon and Sand was covered by Kenny Burrell in a soothing combination of acoustic guitar and percussion in 1980 on Concord Records. Dave has strong childhood memories of this album because his father, who was a guitarist himself, was a fervent follower of Kenny Burrell's music. Jazz pianists like Roland Hanna, Marian McPartland and John Hicks seem to favor the melody. With acoustic guitarist Marc Antoine at his side, Benoit gives the tune its radiant orchestral appearance.
Sly Fox is a collaboration between David Benoit and Jeff Lorber. With a strong horn section and Hammond B3 interludes, the energetic piece clearly differs from its musical environment. How Deep Is the Ocean? is a popular song written by Irving Berlin in 1932, and can be heard in the background of the 1933 film The Life of Jimmy Dolan. Benoit pairs on this precious with Rick Braun, who strikes the muted trumpet with great reverb plumbing the depths of the sea.
Dave G is Benoit's tribute to Dave Grusin is featuring Vincent Ingala on soprano sax, by the way for the first time on a Benoit album. Benoit's solo on Fender Rhodes and Vincent's solo are out of this world. On Sienna Step Dave Benoit performs with sophisticated instrumental virtuosity ecstatically transcending the compositional boundaries of his composition.
Feel It Still is a monster hit of the alternative rock band Portugal. The Man taken from the album Woodstock (2017). The Marvelettes' Mr. Postman (1961) was the godfather of this song. Always on the lookout for genius, David Benoit is also able to elicit his personal notes from this piece.
The title 96-132 Revisited describes perfectly the song, David originally released on his debut album Heavier Than Yesterday (1977). The title 96-132 refers to two-metronome markings: 96 for slow and 132 for fast. Benoit works with these different tempos in his piece. Justin Cheung is a 19 years old cellist from Benoit's youth orchestra. He is the main player on Benoit's rendition of Coldplay's Viva La Vida having the time of his life.
David Benoit combines on his album David Benoit And Friends songs of the American songbook with contemporary music, links the past with the present and in this way makes his music to a timeless sound document of music history.





Buy the album in all stores



Album Information



Title: David Benoit and Friends
Artist: David Benoit
Year: 2019
Genre: Smooth Jazz
Label: Shanachie Entertainment

Tracks:

1 Ballad of Jane Hawk (feat. Peter White) 4:08
2 Make It Real (feat. Lindsey Webster) 4:30
3 Vernazza (feat. Dave Koz) 4:03
4 Moon and Sand (feat. Marc Antoine) 5:45
5 Sly Fox 4:38
6 How Deep Is the Ocean (feat. Rick Braun) 3:53
7 Dave G (feat. Vincent Ingala) 4:15
8 Sienna Step 4:14
9 Feel It Still 5:03
10 96-132 Revisited 4:03
11 Viva La Vida (feat. Justin Cheung) 3:59





Further reviews: