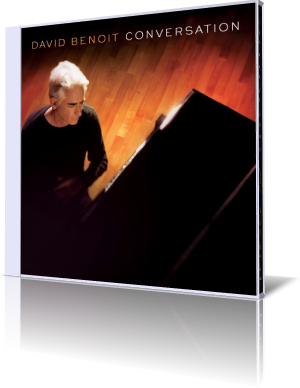 To call David Benoit a grand seigneur of smooth jazz, would be a bit too short. Sure, this pianist is well-known as interpret of several prominent Charlie Brown related projects (including Hereís To You, Charlie Brown: 50 Great Years and the star-studded 40 Years: A Charlie Brown Christmas).
Nevertheless musical pigeonholing is hated him. David states: "When I started making records, I never conformed to a specific format. Mostly my records were just me writing and playing my own music, directly from my heart. Iíve come back to that on this record, but using some orchestral colors this time. As a composer, Iíve stretched a bit, and this really represents where I am right now as a pianist, as a musician, as a composer. Itís a very good snapshot for people who have been following me for a while. This is where I am right now. Iím not pandering to radio. Iím just doing what I love to do, and thatís whatís been so much fun about it.Ē
Indeed is life too colorful, to reduce oneself on one format. Consequently David's new album Conversation (2012) presents a great bouquet of different styles, touching David's musical ideas.
Napa Crossroads Overture is the result of his experience as conductor of the Asia America Symphony Orchestra and as leader of such eminent orchestras as the Los Angeles Philharmonic and the symphonies of London, Nuremberg, San Francisco, Atlanta, San Antonio and San Jose. Benoit has written that tune together with guitarist David Pack some years ago. One wonders, that he has denied this beautiful piece for so long.
Feelin' It is David's revisit of the Bossa Nova style, we recently listened with Botswana Bossa Nova in Mallorca. The song is featuring sax player David Sills, who has left a lasting impression on Benoit: "The first time I heard one of his records, I was just knocked out. Iíve been jamming with him off and on ever since, and it was great to finally get him on one of my records."
Benoit adapted the theme music from the original Diary of a Wimpy Kid movie, composed by Theodore Shapiro and developed it to new heights. Not far away from the Charlie Brown themes Jeff Golub makes the difference with his rockful guitar loops. Kei's Song Redux is dedicated to his wife Kei, with which he is married since 27 years. A refreshment of the old song from the album Freedom at Midnight with Pat Kelly's awesome acoustic guitar.
Influenced by French composers like Debussy and Ravel Benoit wrote Sunrise On Mansion Row. There is some Bolero in the air. Benoit's state of the art as composer. You're Amazing is dedicated to Jean Wang, Benoit's web mistress. Current or past members of the Asia-America Youth Orchestra show how vivid a Bossa Nova piece can be.
Q's Motif was inspired by a boogie-woogie motif that Quincy Jones wrote. Benoit makes extensive use of synthesizer before he continues his firework on piano. Let's Get Ready is an easy going straight ahead jazz piece in the tradition of Gershwin. On Conversation Benoit melts elements of jazz, jazz fusion, classic and country to an inimitable interaction. Benoit shares the piano part with winner of the International Prokofiev Piano Competition Robert Theis, what contributes new aspects into the interpretation.
With Conversation Benoit underpinned his unique position in the music world. A successful mix of familiar and innovative essentials.