| | |
| --- | --- |
| Archive | |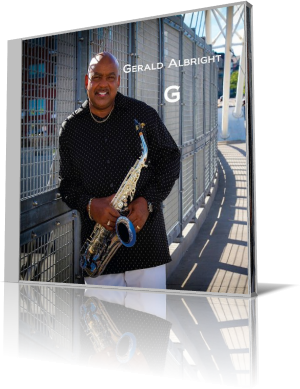 Saxophone legend Gerald Albright started his career with Just Between Us (1987), followed by Dream Come True in 1990, Live at Birdland West in 1991, Smooth in 1994, and Live to Love in 1997, all on Atlantic Records, Groovology (2002) and Kickin' It Up (2004) on GRP, New Beginnings (2008) and Sax for Stax (2009) on Peak Records, Pushing The Envelope (2012) and Slam Dunk (2014) on Heads Up International. His newest album is G, which is released on his own label Bright Music Records.
Gerald comments the first track on his new album꞉ "Taking Control is a special song for me in that it directly reflects where I am in my career presently. I'm taking total control of my artistry and creativity with this song and the entire 'G' project. My musical center is in R&B and Contemporary Jazz. Taking Control, as the first single, mirrors those two genres in an effort to uplift the listener and promote the ultimate energetic groove."
On Taking Control Gerald performs all the horns and in a double feature also the bass. The forceful sax is the kicking solo instrument, while the agile bass runs in between as second solo part. Read Your Mind was an R&B hit by singer Avant from the album Private Room (2003). Gerald Albright fine arranged cover delivers the right shape, depth, and characteristic that you have been missed on the original.
Boom Boom opens the window to earlier times with a well tuned arrangement keeping connection to Motown music. Bill Withers' megahit Lovely Day is among the most covered songs of the smooth jazz genre. With Michael McDonald on his vocal side Gerald's rendition counts to the finest harmonious supremacy music history can offer.
Frankie B. is Gerald's tribute to Frankie Beverly and one of Albright's favorite bands, Maze. How can you celebrate such an outstanding singer than with the best, Gerald has to offer, the ultimate groove? Something funky should never be missed on a good smooth jazz album. Funkism dives deep into Funk and adds a great portion of jazz.
On I Miss You Gerald shows his skills on a great array of instruments. He performs alto, tenor and bari sax, in addition to C flutes, alto flutes, bass flute and bass guitar. A soothing love ballade with enormous emotional expression. On G and Doug E. Gerald is joined by American rapper Doug E. Fresh for a dynamite hip hop song. Albright gives an impressive air of authenticity in all genres he touches especially when he performs the funky bass like on We Came to Play (La Calle).
Gerald aptly entitles the final tune as Closure. The sax guided melody is harmonically floating to homey and cozy ambiance.
Gerald Albright has created his new album G with a carefully designed concept. Extremely meticulous mastery of instruments and blessed moments of sparkling ideas provide a significantly enhanced sound experience of music-historical rarity.





Buy the album in all stores

Album Information

Title: G
Artist: Gerald Albright
Year: 2016
Genre: General Jazz
Label: Bright Music Records


Tracks:

1 Taking Control 4:04
2 Read Your Mind 4:19
3 Boom Boom 4:31
4 Lovely Day (feat. Michael McDonald) 5:03
5 Frankie B. 5:39
6 Funkism 4:11
7 I Miss You 4:55
8 G and Doug E. (feat. Doug E. Fresh) 4:58
9 We Came to Play (La Calle) 4:38
10 Closure 4:54
11 We Came to Play (La Calle) [feat. Rick Watford] [Remix Bonus Track] 4:40


Further reviews:

Pushing The Envelope

Slam Dunk