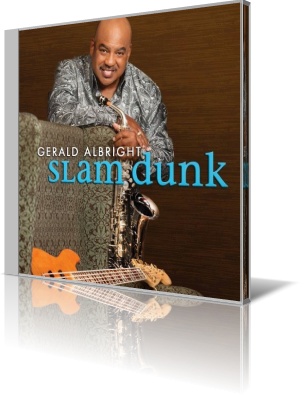 Gerald Albright is praised by critics to the skies for years. He has earned it through albums and performances. Compared to other saxophonists, he succeeds to keep a personal touch to the game.
Slam Dunk is Albright's fifteens album as a leader. According to Gerald there is a difference to the predecessors꞉ "But what we wanted to do on this record was to take those instruments that are normally in the background – bass, flute and horns – and bring them up front."
Slam Dunk is a shot in which a player thrusts the ball forcefully down through the basket. This energy puts Albright in his new album. Here are assisting him keyboardist Chris "Big Dog" Davis, drummer Jerohn Garnett, guitarist Rick Watford, and his daughter, Selina Albright, on vocals.
The album starts in full force with the title song. Funky guitar, overdubbed horns and a hip hop rhythm are a clear statement for jazz in a contemporary sense. Phil Collins' song True Colors gets a fresh R & B painting with a vocal arrangement at its finest.
Because Of You is Gerald's tribute to his beloved wife Glynis. Wonderful the chorus in style of Take 6. With the cover It's A Man's, Man's, Man's World Albright spins the link to the music of James Brown, one of his favorites. Especially because the piece leaves much room for emotional development.
The Duke is dedicated to the late George Duke, Gerald terribly misses. He shared many hours with him discussing all things especially about music. Sparkle In Your Eyes is a soothing mélange of R&B, Hip Hop and funk with a great horn impact. Where Did We Go Wrong? features blessed singer Peabo Bryson, who impressed with his awesome tenor vocals.
On the rhythm powered Fiesta Interlude Gerald takes the flute, an instrument that he rules masterly like the saxophone. On Split Decision Gerald shares the lead with the bass, he also performs in a perfect manner. A pleasant surprise. Finally Gerald presents The Gospel Interlude and The Gospel, mournful songs to his late mother-in-law. Genuine and touching.
On Gerald Albright's quality music can be relied. He sets the standard and is the reference in sax. With Slam Dunk, one does not fail.




Album Information

Title: Slam Dunk
Artist: Gerald Albright
Year: 2014
Length: 0:48:50
Genre: Smooth Jazz
Label: Heads Up

Tracks:
01 Slam Dunk [4:40]
02 True Colors [5:33]
03 Because Of You [5:16]
04 It's A Man's, Man's, Man's World [5:44]
05 The Duke [4:17]
06 Sparkle In Your Eyes Interlude [1:30]
07 Sparkle In Your Eyes [4:14]
08 Where Did We Go Wrong? Feat. Peabo Bryson [4:47]
09 Fiesta Interlude [3:04]
10 Split Decision [4:38]
11 The Gospel Interlude [0:39]
12 The Gospel [4:28]





Further reviews

Groovology