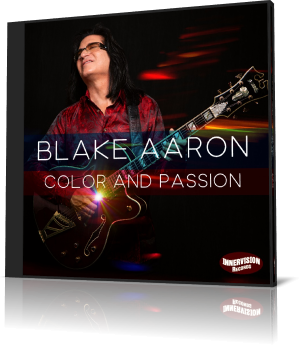 He played with Carlos Santana, The Gap Band or Bobby Womack, but meanwhile he has made a name for himself and achieved a certain degree of fame. For collectors Blake Aaron's previous releases are listed as follows: With Every Touch (2001), Bringin' It Back (2003), Desire (2007), Soul Stories (2015) and this year Color And Passion. Remarkable in this day and age, all albums have been released on Innervision Records.

Already in April 2017 he announced the forthcoming album in connection with the release of his single Vivid. Who would have thought that it would take until September 18, 2020 to release it. The long production time also explains that half of the album consists of singles released in the last 5 years, which successfully hit the billboard charts.

Thus the album also reflects the entire musical environment of this guitarist, who has already built up a large network of musicians. Besides Aaron, who plays guitar and keyboards, one can find in the credits a plethora of musicians listed below. The album contains one cover, all other compositions are by Blake Aaron or are collaborations with Darren Rahn and Adam Hawley.

Opener of the album is the super-catchy Fall For You. Black Aaron integrates stylistic elements of George Benson in this blazing groove and delivers an exciting vibrating question and answer with Tateng Katindig on the piano. We also meet these classical GB riffs on Groovers and Shakers, a fine tune created in collaboration with producer and saxophonist Darren Rahn.

The uplifting Sunday Strut features sax legend Najee, who is widely supported by David Mann's excellent horn arrangement. In transitions, musical quotations like Stevie Wonder's Sir Duke are alluded to. Drive presents solid chops of this popular guitarist who opens up to the funk and then slides off into the dreamy. Also remarkable is Jason Rahn on flugelhorn, while Darren Rahn, although involved with most instruments, limits himself to accompaniment.
The well-known single Vivid has lost nothing of its vigor even after its release in 2017. The Martin brothers are also involved in this piece with saxophone, trumpet and trombone and give it a powerful swing. Rob Mullins on piano takes the tune on another level.

Color and Passion is a slow intense acoustic tune with a wonderful romantic attitude, that recommends this piece as a soundtrack for a substantial movie. The explanation is simple. Craig Sharmat who is involved in the recording as arranger and performer of a strings arrangement, is fostering merits as a brilliant film composer (King Kong, Ghost Rider, Eragon). The thrilling dramatic of the piece is created by the bridge, in which Blake lets the guitar scream in the style of Pat Metheny.
Blake Aaron composed Daylight with the intention to bring encouragement to the people in this threatening time of pandemic. He has fully succeeded in doing so with this lively piece. Riviera Nights is blending elements of Tarantella, Salsa and Flamenco to an irresistibly fiery dance with a high risk of infection. Mike Whittaker on the piano is a true virtuoso.
Godfather Brown is a successful mixture of a tribute to James Brown, film music and a healthy dose of jazz. Weekend in Paradise is a Reggaeton flavored feel good song. The album receives a crowning finish with a cover of Stevie Wonder's Don't You Worry Bout a Thing. A festival of Latin music perfectly packaged with the best musicians California has to offer.
Blake Aaron has achieved with his album Color and Passion, what other musicians of his genre have not been able to match in their whole artistic life. A hit album from start to finish of impressive impact power.





Buy the album in all stores

Album Information

Title: Color And Passions
Artist: Blake Aaron
Year: 2020
Genre: Smooth Jazz
Label: Innervision Records


Tracks:

1) Fall for You (4:57)
2) Groovers and Shakers (Feat. Darren Rahn) (4:54)
3) Sunday Strut (Feat. Najee) (4:27)
4) Drive (4:38)
5) Vivid (6:22)
6) Color and Passion (6:38)
7) Daylight (5:00)
8) Riviera Nights (4:43)
9) Godfather Brown (3:50)
10) Weekend in Paradise (4:11)
11) Don't You Worry Bout a Thing (Feat. Kim Scott) (4:09)


Credits:

Tony Moore (drums), Darryl Williams (bass), Tateng Katindig (piano and keyboards), Darren Rahn (sax and Wurlitzer, synth, programming), Mel Brown (bass), Tarell Martin (drums), Najee (tenor and soprano saxophones), Eric Valentine (drums), Adam Hawley (rhythm guitar, Rhodes, strings, organ, programming), David Mann (horn arrangement, saxophones), Jason Rahn (flugelhorn), Hussain Jiffry (bass, upright bass), Rob Mullins (piano, keyboards), Scott Martin (sax and horn arrangement), Stan Martin (trumpet), Andy Martin (trombone), Luanne Homzy (violin), Craig Sharmat (string arrangements and virtual strings), Kimaya (vocals), Mike Whittaker (piano), Kim Scott (flute), Ronnie Gutierrez (percussion), Lee Thornburg (horn arrangement, trumpet, trombone) and Mike Parlett (saxophones).

Further Reviews: