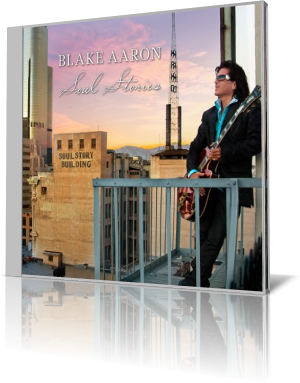 Guitarist Blake Aaron is an universalist, both in Radio and TV shows at home as well as on the side of big stars like Carlos Santana, The Gap Band or Bobby Womack. Also in the smooth jazz genre, he is known all over town. His solo career as guitarist started with Every Touch (2001), followed by Bringin' It Back (2003), Desire (2007), Romantic Christmas (2011) and this year Soul Stories.
Blake is supported by vocalist Derek Bordeaux, keyboardists Tom Zink, Rob Mullins and Lew Laing; bassists Hussain Jiffry and Melvin Davis; strings arranger and keyboardist Mike Whittaker; strings arranger and label mate Craig Sharmat; percussionist Ronnie Gutierrez, and drummers Ricky Lawson and Winston Butts.
The album starts with the uplifting guitar tune Groove-O-Matic, which one can listen on his website. Stomping beats, bustling guitar licks and precise horn injects mark this dance piece. Like on his previous album Blake gives a tribute to late guitar hero Wes Montgomery with Wes' Side Story. Slinky guitar chords meets Latin Bossa Nova.
Of course a flamenco affine piece of music can not be missed. Aaron presents it with Sol Amor. Another shining example, Carlos Santana, is honored with a dreamy rendition of Europe. You're the One for Me is featuring jazz crooner Spencer Day, who ensured sensation lately at various festivals around the globe with his performances.
Story of the Blues has captured my soul. With some harmonies you reach straightforwardly my heart. This song is one of them. Sara Smile is a ballad written and recorded by Hall & Oates in January 1976. The song is very popular in smooth jazz. Theresa Grayson, Nils, Alex Bugnon, Boney James are among the copier. The most beautiful rendition I consider Blake's version. When a musician called a tune Story of My Life, it is undoubtedly important to him. Life must be marvelous for Blake, when the song depicts his
experiences.