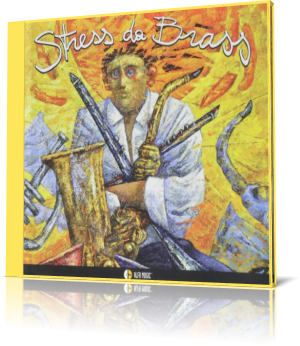 Hailing from Follonica, Italy Stefano Cocco Cantini is a saxophonist, who has collaborated with jazz musicians including Michel Petrucciani, Chet Baker, Dave Holland, Enrico Rava, Billy Cobham, Kenny Wheeler, Dave Liebman, Ares Tavolazzi, Stefano Bollani and Paolo Fresu. As a soloist he has released the albums
Niccolina al mare
(2001),
The circus
(2003),
L'amico del vento
(2005),
Errante
(2010) and
Living Coltrane
(2011).
Romano Zuffi is an Italian pianist and keyboardist. Together they already have released on AlfaMusic three albums,
Attuttogass
(2015),
Attuttallaria
(2017) and
Stress da Brass
(2018). The album appears as an elaborately designed booklet, with lyrics and many graphics. The album is dedicated to the great late painter Giampaolo Talani, creator of all the paintings that characterize the covers of the record series.
Contributors to the album include Stefano Cantini (sax, piano, electric piano), Alfredo Golino (drums), Ares Tavalozzi (contrabass), Giulio Stracciati (electric guitar), Francesco Marcucci (bass, electric guitar, acoustic guitar), Andrea Lagi (trumpet, flugelhorn), Giulia Bernardini (viola), Valentina Garofoli (violin, violincello), and Romano Zuffi (keyboards, piano, electric piano, synth). Vocalists on selected tracks are Alex Ligertwood, Giulia Fasolino, Jole Canelli, background singers are Alice Bertoncini, Valentina Toni, and Gianni Nepi.
Try Another Time
starts with an impressive horn arrangement. After one minute introduction the phase of singer Alex Ligertwood begins. Alexander John Ligertwood is a Scottish–English singer, guitarist and drummer. He is best known as the lead vocalist of Santana, Average White Band, The Jeff Beck Group, Brian Auger's Oblivion Express and many more. He has a special rough timbre which stands him aside of the majority of other vocalists and makes him unique and recognizable.
Se Sfebbrasse (Starebbe Meglio)
is a contemplative piece that sails in calm waters. The title song starts of course with a harmonic multi-tone of horns, but then suddenly changes into a jazzy electric piano piece, which at the beginning still associates Herbie Mann's
Comin' Home
, but then changes into straight ahead jazz.
On My Own
features Italian singer Giulia Fasolino in a somewhat schmaltzy, sentimental love ballad, which comes across even smoother through the use of strings.
Streptococco
is an organ-heavy piece that builds up a strong counterweight to the previous one. Guitar riffs cause small splashes and then Stefano saxes off in such a jazzy way that the whole harmony gets out of joint.
Brasserie
is an awesome narrative instrumental with guitar, keys and piano in the lead, a smooth horn background and strong horn injections in contrast to the sonic layer.
Quasi Luglio
(Almost July) offers an instrumental piece with stunning choral harmonization by Alice Bertoncini.
Stiamo Calmi
(Stay Calm) is the aptly title for this nocturne giving the opportunity to reflect and pause.
Drifting
is a ballade about a man who slowly moves away from his wife and seeks solitude. The song features the smoky voice of Jole Canelli.
Stress Da Brass
covers a wide range of different styles from lounge, chill jazz to contemporary jazz and reflects the creative personalities of the participating musicians. First and foremost Romano Zuffi & Stefano Cocco Cantini.










Buy the album in all stores

Album Information

Title: Stress Da Brass
Artist: Romano Zuffi & Stefano Cocco Cantini
Year: 2018
Length: 36:15
Genre: Contemporary Jazz
Label: AlfaMusic

Tracks:

1) Try Another Time (4:46)
2) Se Sfebbrasse (Starebbe Meglio) (3:44)
3) Stress Da Brass (4:03)
4) On My Own (3:19)
5) Streptococco (4:09)
6) Brasserie (4:16)
7) Quasi Luglio (4:17)
8) Stiamo Calmi (3:34)
9) Drifting (4:04)