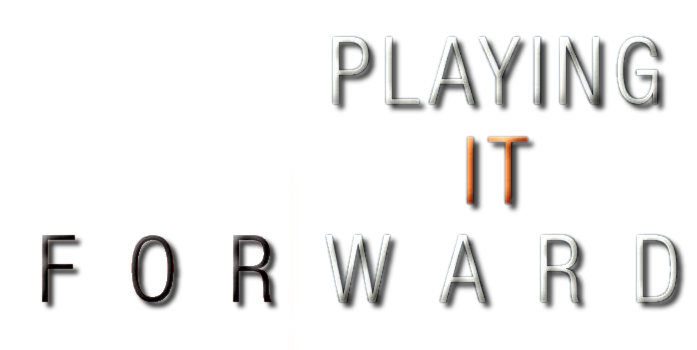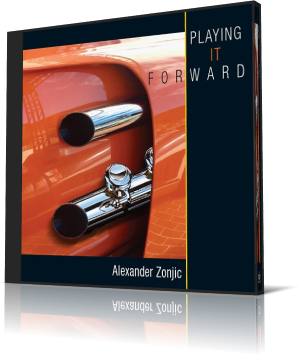 You need to have patience when you are waiting for a new album by Detroit flutist Alexander Zonjic. His previous album Doin' The D was released in 2009 and Seldom Blues in 2004. If the Corona virus had not stopped his previous concert activities, we would probably still be expecting it in vain today.

So we can look forward with joyful anticipation to his new album Playing It Forward that will be released October 9, 2020 on his company's Hi-Falutin Music label. The company name is taken from the same named track on his album Neon (1991).

His new album even features the late guitarist Chuck Loeb, who recorded his songs in 2017. For the curious among you, I have listed all musicians involved in the project in the credits. Among the many familiar faces I discover Justin Lee Schultz for the first time, the wunderkind of smooth jazz.

What lasts a long time finally becomes good. With its fresh attitude and dynamic course, Jazzcafé makes it clear that it was worth the wait. Melodious yet avant-garde in performance, this is how modern contemporary jazz is imagined. Benita presents itself at a consistently brisk pace. Violinist Evan Garr graces the shining virtuosity on violin in flash and burn mode.

Hipster continues the breathtaking, ultra-attractive, hit suspicious mastery with Jeff Lorber and Alexander Zonjic in the main roles. Bob James' album Heads (1977) was a mile stone in contemporary jazz history. Taken from this album is the track Night Crawler which was already far ahead of its time in its modern conception. Once a member of Bob's touring crew Zonjic wisely covers this jewel maintaining his own accent and simultaneously creating a new twist.

Keyboardist James Lloyd (POAD) and Alexander Zonjic have often performed together. Recently they took 14-year old musical genius Justin Lee Schultz under their wings and helped him to some performances. Motor City Sway written by James is their first joint recording and the beginning sounds promising.

With Playing Forward we return to the familiar Jeff Lorber environment. An eclectic blend of Jeff's synth bass enhanced keyboard work with Alexander's flute mastery. On top late Chuck Loeb adds his special guitar riffs. Once again we have the opportunity to listen to Chuck Loeb in this personal constellation on Musaic. Never was a loss more painful.

Ian Anderson (Jethro Tull) is by far the most popular flutist of music history. His progressive rock signature sound has influenced generations of musicians during the twentieth century. Living In The Past (1969) was the first hit single of the group. Zonjic adapts the song in a contemporary setting that emphasizes its timeless value even more.

Eden Ahbez' Nature Boy is a jazz standard recorded for the first time by Nat King Cole in 1948 and later covered countless times. Even Alexander Zonjic cannot escape the charm of this melody.

Bottom Heat is a song by trombonist Raul De Souza, which is from his album Sweet Lucy (1977), an album which was produced by George Duke and has stood the test of time. Zonjic's rendition need not hide behind the original. Especially Jeff Lorber and Zonjic glitter with their virtuosity.

The finale of the album is spectacular with an interpretation of Adele's Rolling In The Deep. This is due in large part to the powerful appearance of the Selected of God Gospel Choir directed and arranged by Larry Callahan.

Rarely has an album fascinated me as much as Alexander Zonjic's Playing It Forward. From start to finish this album blow me away. Everything goes together. Nothing can get any better.










Buy the album in all stores

Album Information

Title: Playing It Forward
Artist: Alexander Zonjic
Year: 2020
Length: 46:45
Genre: Smooth Jazz
Label: Hi-Falutin' Music

Tracks:

1) Jazzcafé (4:15)
2) Benita (4:31)
3) Hipster (3:58)
4) Night Crawler (4:39)
5) Motor City Sway (4:33)
6) Playing It Forward (4:21)
7) Musaic (4:36)
8) Living in the Past (3:14)
9) Nature Boy (4:29)
10) Bottom Heat (4:02)
11) Rolling in the Deep (4:00)








Seldom Blues



Credits


Alexander Zonjic (flute and flute arrangement)

Jeff Lorber (keyboards, synth bass, guitar)

Chuck Loeb (guitar)

Gary Nowak (drums)

David Mann (horn arrangements and performance)

Michael Thompson (guitar)

Evan Garr (violin)

Paul Jackson Jr. (guitar)

James Keith Lloyd (keyboards and programming)

Justin Lee Schultz (keys and synth solo)

Randall Bowland (guitar)

Selected of God Gospel Choir directed and arranged by Larry Callahan