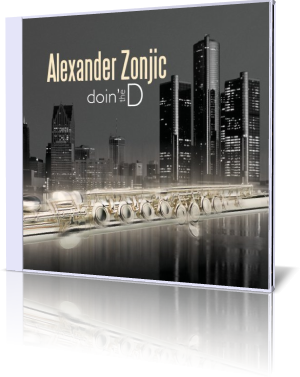 Five years after his previous album Seldom Blues (2004) is Alexander Zonjic back with his new album Doin' The D. The title bases on a catchphrase, which means spending the weekend in Detroit and enjoying the rich cultural activity of the city. In a time of economic decline especially in the city of General Motors and Chrysler people need some cheering up and what can be a better medium than music.
So Alexander Zonjic assembled the who-is-who of contemporary jazz on his new album: Bob James, Jeff Lorber, Kenny G, Rick Braun, Chieli Minucci, Maysa Leak, Lenny Castro, Dwight Sills. These artists and many more followed Alexander's call.
"Detroit and its people embraced me on a profound level many, many years ago, and they're the main reason that I've had such a great career," says Zonjic. "It's one of the greatest music cities in the world. All you need to do is consider that Aretha Franklin still lives here after so many years. Eminem is here, Bob Seger is here, Mitch Ryder is here, Anita Baker, Kid Rock, and the list goes on. Obviously, the city is going through its share of tough times right now - like so many other cities. But I continue to appreciate everything "The D" has done for my career, and I will always support it."

Top Down starts the album featuring master of the keys Jeff Lorber. Alexander comments: "I love how exposed the flute is on this track, as well as the classic Lorber vibe that comes through. This was one of the songs on this record that took me out of my comfort zone and into a new direction in terms of what I'm used to playing."
James K. Loyd, member of the famous group Pieces Of A Dream, leaves his trademark on From A To Z. On Zonjic's album is the flute the most exposed instrument and he treats his instrument with professional ease.
Freddie Hubbard performed Little Sunflower on his album Backlash (1966), later again as vocal track with Al Jarreau on his album The Love Connection (1979). This leisurely paced version was the initiation for Zonjic's interpretation featuring Kenny G on soprano sax. "I've always loved this song, and since the legend Freddie Hubbard recently passed away, it seems all the more significant that we recorded it," says Zonjic. "It's one of those standards that's very modal and melodic. As a result, it plays well with contemporary jazz audiences as well as those coming from a more traditional background."
Chieli Minucci and Lao Tizer penned the energetic Latin flavored Passion Island. "This song became a favorite of mine during the
early selection process," says Zonjic, "it made such a long journey from the original concept to the final track. Chieli sent me the demo. I really liked it a lot, especially Chieli's guitar sound, we changed it quite a bit into what you hear on the record." Bob James plays the piano but Zonjic is the instrumental heavyweight.
Rick Braun and Alexander Zonjic show on Tourista the fascinating joint between trumpet and flute. A fine arrangement of keywizzard Jeff Lorber. The wonderful Maysa graces Undun with her unique vocals. The song was originally released by The Guess Who (1969). "Burton Cummings actually played the flute on the original Guess Who version, and it really adds a great color to the song," comments Zonjic. "I always felt that, for the rock and pop band that they were, this was a very jazzy tune, even in its original version. The real spin comes from slowing it down a bit like we did on the record, and then having a female vocalist like Maysa sing the song instead of a guy."
Doin' The D is a collaboration of Zonjic and Ken Navarro. The up-tempo tune is fired by Alexander Zonjic's flute playing in high spirits and spurred by Ken Navarro on guitar. Good As Goldie is peppered by the Motorcity Horns and Jeff Lorber. The Motorcity Horns are divided in a Detroit and a NY based section delivering a huge offer of jazz, classic and pop music. All members are in diverse bands and projects filling the cultural gap.
James K. Loyd's River Raisin Nights brings some Latin mood into the album. James has a golden touch on keys even in the Salsa zone. On Tongue Twister illustrate Zonjic and Lorber more of their music artistry.
Doin' The D is Alexander Zonjic's musical reverence to his hometown Detroit. A celebration of joy and ecouragement, not only for bad times.






Album Information

Title: Doin' The D
Artist: Alexander Zonjic
Year: 2009
Length: 0:40:39
Genre: General Jazz
Label: Heads Up International


Tracks:

01 Top Down [3:58]
02 From A To Z [3:57]
03 Little Sunflower [4:19]
04 Passion Island [3:49]
05 Tourista [4:04]
06 Undun [4:42]
07 Doin' The D [3:58]
08 Good As Goldie [4:42]
09 River Raisin Nights [3:44]
10 Tongue Twister [3:26]





Further Review