Kirk Whalum The Gospel According To Jazz Chapter III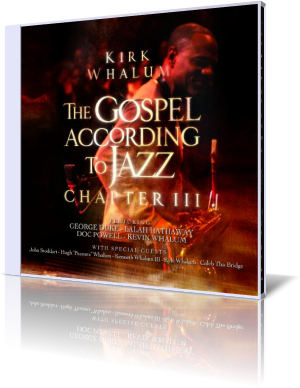 The charisma of a preacher, the attitude of a monk, the kindness of a human. This and much more is saxophonist Kirk Whalum. Those, who attended his concerts, will never forget him and his melodies.
Kirk is like Grover Washington Jr. a legend, the shining light of music. He is a wanderer between two worlds. An in-demand artist in the smooth jazz scene he performed with Peter White, Rick Braun, Jonathan Butler, Gerald Albright and many more. Albums like For You (1998), Unconditional (2000), Kirk Whalum Performs the Babyface Songbook (2005), and Roundtrip (2007) received high acclaims and great acceptance by the listeners.
But his real passion is Gospel music and the worship to God. His Gospel hours are truly impressing and inspirational. He started his first Gospel project in 1998 with The Gospel According to Jazz, Chapter One. His sophomore project in this genre was Hymns in the Garden (2000), followed by The Gospel According to Jazz, Chapter II (2002).
After a long hiatus he now presents The Gospel According to Jazz, Chapter III (2010). Kirk comments: "'The Gospel According to Jazz is about that pursuit of excellence in one's craft as a worship to God. My devotion to that instrument and trying to really master an instrument is my primary worship to God. I certainly worship him with my mouth. I just praise God. I try to serve him in whatever way I see fit."
The album was recorded live at Reid Temple, Glenn Dale, MD and additionally recorded in diverse studios. Featured musicians on this album are among others George Duke (piano), Lalah Hathaway (vocals), Doc Powell (guitar), Kevin Whalum (vocals), John Stoddart (keyboards, vocals, programming), Hugh "Peanuts" Whalum (vocals, sax, piano), Kenneth Whalum III (sax), Kyle Whalum (bass) and Caleb Tha Bridge (rap vocal).
With Call To Worship Kirk Whalum shows his great dedication to God. He performs the sax with extreme sensibility. He fuses Gospel with jazz in his special way. Whalum: "All of that is a part of black culture. And black culture is the salt of the whole world culture."
Fit To Battle features Kirk's nephew Kenneth Whalum III and his uncle Hugh "Peanuts" Whalum, who was at that time 79 years young, in a furious sax battle accompanied by Sean McCurley on heavy drums.
Reginald Veal introduces with his upright bass into Ananias & Sapphira. A history of the early church painted with dark colors in an oriental swing. Aaron Bradus on trumpet and Kirk on sax chase the story in bebop style.
Rev is dedicated to the memory of Kirk's father Rev. Kenneth T. Whalum. His dad was a very complex guide, so this jazz piece has this complexity too. With grace George Duke approaches the nucleus of Because You Loved Me. His touch of keys is divine. A frenetic applause is the answer.
When Kevin Whalum and Lalah Hathaway joined in an awesome ballade, then Luther Vandross' & Nat Adderley's Make Me A Believer is not a request, but the first step to faith. He's Been Just That Good features these fascinating singer in vibrant keenness. Gospel cannot be more perfect.
On the terrific If You Ever Need Me jazz meets Samba. Kevin Whalum follows into Al Jarreau's footprints. Reginald Veal's bass, Lenny Castro's percussion and Sean McCurley's drum solo are not of this world.
With Africa Jesus Africa Kirk Whalum bless and greets all friends in Africa. "Africa really responded to The Gospel According to Jazz and we thought that this was an opportunity to bless them back." The song features Gospel rapper Caleb Tha Bridge, Kirk's nephew.
You Are Everything, a soul song written by Thom Bell and Linda Creed features brilliant guitarist Doc Powell, who Kirk met in a concert with Luther Vandross first time. Doc has a transcendent style of guitar performance. Not a cheap showmanship, but a jazz guitarist supreme.
Charlie Chaplin's remarkable song Smile combined as a medley with Isaiah Thomas's God Has Smiled on Me is interpreted by Hugh "Peanuts" Whalum in a way, which is incredible for a man already in an age of 79 years. Understandable is Kirk's praise for his uncle's great performance and the audience holler.
The incomparable Lalah Hathaway sings It's What I Do with her significant timbre. The Thrill Is Gone, a song made popular by B.B. King, finds a new home in Lalah's rendition. Kirk Whalum pushes the song with his wheezy sax.
Frankie Beverly's Running Away is a soul firework. Remember Frankie's legendary concerts in L.A. and New Orleans. With his scat singing Kevin Whalum creates a jazzy overhead. Final tune is the bonus track You Are Everything, in this version with spoken words of Mrs. Serita & Bishop T.D. Jakes.
You love jazz? You love Gospel? Why not kill two birds with one stone? This album combines both styles in an irresistible fusion. You know, what you get, when you buy a Kirk Whalum album. You can only surpass it attending his concerts, but then he also offers a DVD of his concert.




Buy the album in all stores

Album Information

Title: The Gospel According To Jazz - Chapter III
Artist: Kirk Whalum
Year: 2010
Length: 1:11:27
Genre: Gospel
Label: Rendezvous Music

Tracks:

CD1

01 Call To Worship [4:47]
02 Fit To Battle [9:36]
03 Ananias & Sapphira [13:52]
04 Introduction To Rev [3:52]
05 Rev [7:45]
06 Because You Loved Me [9:03]
07 Make Me A Believer [6:24]
08 He's Been Just That Good [4:26]
09 If You Ever Need Me [11:44]


CD2

01 Africa Jesus Africa [7:38]
02 You Are Everything [8:50]
03 Smile Medley (Part 1) Smile [4:42]
04 Smile Medley (Part 2) God Has Smiled On Me [4:43]
05 It's What I Do [6:51]
06 The Thrill Is Gone [5:49]
07 Running Away [12:48]
08 You Are Everything [7:22]