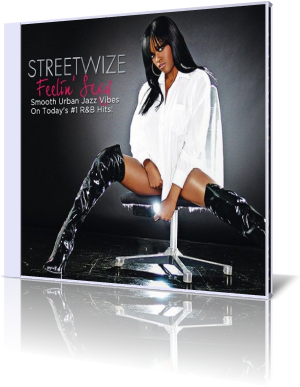 Kim Waters is certainly the most productive saxophonist of the smooth jazz genre. Very popular are his Streetwize albums Streetwize (2002), Streetwize II (2003), Streetwize/Slowjamz (2004), Streetwize Does Dre (2005), Streetwize Sexy Love (2007), Streetwize Does Mary J. Blige (2008), and Streetwize - Put U To Bed (2009).
His latest project in this series is Streetwize - Feelin' Sexy, which was released October 30, 2012 on Shanachie Entertainment. Kim Waters played all instruments except Bernd Shoenhart (guitar). In his own way interprets Waters R&B hits with market success in recent years.
Crooner Robin Thickes' Love After War has a high seductive potential, shared by Waters on his faithful rendition. Ledisi's lead single Pieces Of Me has a critical attitude. Waters perfectly crystallized the melodic part with his tenor sax.
R. Kelley's glitzy Feelin' Single might remind you at Bill Wither's Lovely Day. Waters covered the tune without the swinging interlude of the video, what would be the right blast. Usher's mournful wailing Climax is sensitively sympathized by Waters.
Dana Pope wowed the audience with her sultry rendition of Mary J. Blige's Mr. Wrong wonderfully supported by Mr. Sax himself. John Legends' emotional ballade Tonight (The Best You Ever Had) is brilliantly matched on this album. Frank Ocean's Thinkin' Bout You is another song, which motivated Waters possibly inspired by Frank's top voice.
Anthony Hamilton's Pray For Me, Tank's Next Breath and Atlantic Starr's Send For Me (Old School Classic) are sentimental additions to this album.
Like the previous Streetwize albums offers Feelin' Sexy a balanced collection of exquisite R&B covers, who still find their followers. The selection of timely hits will do much to the market success.




Biography

Website


Buy the album in all stores

Album Information

Title: Feelin Sexy
Artist: Streetwize
Year: 2012
Length: 0:43:28
Genre: Smooth Jazz
Label: Shanachie Entertainment


Tracks:

01 Love After War [3:52]
02 Pieces Of Me [5:04]
03 Feelin' Single [3:57]
04 Climax [3:38]
05 Mr. Wrong [4:37]
06 Tonight (The Best You Ever Had) [4:18]
07 Thinkin' Bout You [4:30]
08 Pray For Me [4:39]
09 Next Breath [3:38]
10 Send For Me (Old School Classic) [5:15]



Further Review:

Kim Waters - This Heart Of Mine