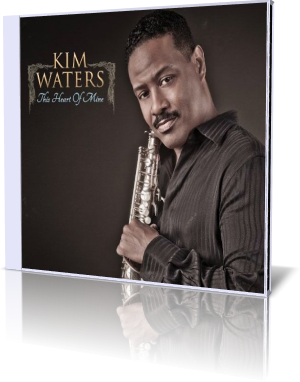 Now we talk about the saxiest man in the smooth jazz world, the creator of Sweet & Saxy (1989), All Because of You (1990), Sax Appeal (1991), Tribute (1992), Peaceful Journey (1993), It's Time For Love (1994), Home For Christmas (1994), You Are Not Alone (1996), Love's Melody (1998), One Special Moment (1999), From The Heart (2001), Someone To Love You (2002), In The Name of Love (2004), All For Love (2005), You Are My Lady (2007), I Want You (2008), Love Stories (2010) and This Heart Of Mine (2011), the one and only Kim Waters.
Nothing can stop his productive creativity. So he also served Streetwize (2002), Streetwize II (2003), Streetwize/Slowjamz (2004), Streetwize Does Dre (2005), Streetwize Sexy Love (2007), Streetwize Does Mary J. Blige (2008), Streetwize - Put U To Bed (2009). As member of the Sax Pack he released in addition The Sax Pack (2008) and The Pack Is Back (2009).
I would ask Kim, when do you have time for recreation? "I believe that the world cannot live without new music. I know I canít!Ē Following this answer we should direct our attention to his new album This Heart Of Mine. Kim performs on this album most of the instruments only supported by Allen Hinds on guitars.
On Heart Seeker Waters returns with a perfect killer groove. The sax on the point cleverly embedded in a perfect arrangement. Free Fall is not the awaited free improvisation but a well constructed sax composition in overdub mode. Am I A Fool presents American R&B and soul singer Calvin Richardson, who recently earned acclaims with his fifth album America's Most Wanted.
Jay-Z's anthemic ode Empire State Of Mind is well received by Kim. Dan Pope substitutes Alicia Keys vocal part with great passion. On the fast-paced The Groove's Alright the synth bass sets the beat, while Waters' seductive sax is the main attraction.
Waters often borrows from the funk music of the '70's. Step To This is a terrific example for the funkifized sound. The romantic ballade I Love My Girl strongly fosters under the female audience. While Waters often uses programming in a tricky way, Love Letter showcases the lack of a real drummer.
Stay With Me Tonight is another sweet and soulful love serenade. The beat driven Running To Love animates to swaying movements. Double Two Love sets you into the right mood, a real headphone candy.
This Heart Of Mine is all about, what Kim Waters can do best, to compose and to perform inspiring music for the finest hours in your life.






Buy the album in all stores

Album Information

Title: This Heart Of Mine
Artist: Kim Waters
Year: 2011
Length: 0:53:10
Genre: Smooth Jazz
Label: Shanachie Entertainment


Tracks:

01 Heart Seeker [4:46]
02 Free Fall [4:11]
03 Am I A Fool [5:17]
04 Empire State Of Mind [4:43]
05 The Groove's Alright [4:31]
06 Step To This [5:04]
07 I Love My Girl [4:41]
08 Love Letter [5:36]
09 Stay With Me Tonight [4:53]
10 Running To Love [4:23]
11 Double Two Love [5:05]