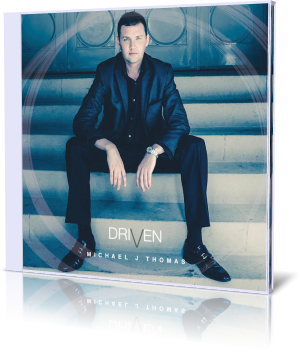 Saxophonist Michael J. Thomas earned his first merits as a member of the Jive Rockets. In 2010 he debuted his solo career with the album City Beat. The song Amante Del Vino taken from this album is weaved into the plot of the movie Contagion, starring Matt Damon, Gweneth Paltrow, and Kate Winslet.
Driven is his sophomore album and was just released on Harbor Breeze Records. Michael has written all the tracks, in part with other musicians. "I decided that this would be a passion project for me more than trying to write music that fits the traditional model," explains Destin, Florida-based Thomas.
Michael performs on this album soprano, alto and tenor saxophones and vocals. Additional supporting musicians are Shannon Wallace (guitar, percussion, horn arrangement), Oli Silk (keys/synths, strings, percussion, bass programming), Eric Lampley (bass, horn arrangements), Omari Williams and Frank "Third" Richardson (drums), Trammel Starks (keys/synths, strings, percussion), Gino Rosaria (keys/synths), Andre Forbes (keys/synths, strings, horn arrangements), Paul Scurto (trumpet), Mark James and Chris Blackwell (guitar) and Joseph Patrick Moore (bass).
First track of the set is My Love showcasing Michael's vocal prowess. He is often compared with George Michael with whom he shares the charismatic timbre expressively anchored by his saxophone. On Baby Coffee Thomas works with the experienced British keyboardist Oli Silk, who adds a nice synth flow to Michael's captivating sax theme.
When stagnation, receding and misery are pushed out, you find hope and encouragement. In America, You Can Do It! is Thomas' and Gino Rosaria's personal cheering up for a better future. You Know You Got This presents with baritone sax like sound a virtuous application to the familiar sax tones.
Girls Got Moves mingles elements of funky pop with retro sound. Thomas' vocal interpretation reminds me of Robbie Neville's singing asset. Make Me Crazy flames in Latin fever with a splendid Shannon Wallace on guitar, a shining Paul Scurto on trumpet and of course a proactive Michael Thomas on sax.
Get Your Smooth On celebrates the sax in a repetitive theme. Say Goodbye turns out to be a heartfelt love ballad with the full range of romance presented by Michael, a wonderful chansonnier, perfectly accompanied by a crispy guitar, Leonard Andre Forbes' strings and synths and Michael's superb soprano sax.
Never Gonna Leave You is Michael's ultimate vow of fidelity, which should convince every femininity. The organ rises the emotional impact. The title song leaves the smooth jazz realm and is a final energetic ambush on the pop pantheon. Mark James heats the song with a yelling guitar solo. The album finishes with an instrumental version of Girls Got Moves placing Michael's sax into the foreground.
Driven is Michael Thomas' very personal musical view of his recent life period with ups and downs. Michael experiments with his musical possibilities and artistic expressions freed from the conventions of a genre and only true to himself.




Buy the album in all stores

Album Information

Title: Michael J. Thomas
Artist: Driven
Year: 2017
Genre: Smooth Jazz
Label: Harbor Breeze Records


1. My Love 4:38
2. Baby Coffee 4:42
3. In America, You Can Do It! 3:50
4. You Know You Got This 4:54
5. Girls Got Moves 3:49
6. Make Me Crazy 3:40
7. Get Your Smooth On 4:47
8. Say Goodbye 3:54
9. Never Gonna Leave You 5:04
10. Driven 3:22
11. Girls Got Moves (Instrumental) 3:48

Further review:

City Beat