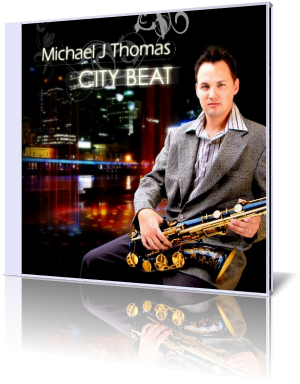 Those, who lead us to believe that smooth jazz is something for the older generation, fail to notice the large crowd of young musicians, which are keen to entertain the audience. Out of this overwhelming legion of new musicians I pick today Michael J Thomas. Once a member of the Jive Rockets, he joined the smooth jazz genre after moving to Destin, Florida in 1999.
City Beat, Michael's debut album, is scheduled for release March 2nd on Harbor Breeze Records. Produced by Shannon Wallace and Michael J Thomas the new album deserves a comprehensive reflection. Michael is supported by Jonathan Davis (drums & percussion), Eric Lampley (bass), Diki Ross (keyboards), Shannon Wallace (guitar), and Paul Scurto (trumpet).
The journey starts in Midtown Manhattan not in a bombastic way but with a superb elegance, which is a good sign for Michael's sincerity as a professional musician. Michael don't just play the melody but tries to interprets the interrelation of the complete theme.
Sure, as a young musician Michael follows his idols like Dave Koz, Richard Elliot or Boney James, but City Beat shows it up, Michael does it with accurateness. Have we anything to offer our guests? The romantic Wedding Song (Forever Always) for countless matrimonies. I have to admit, Shannon Wallace can play his guitar!
The propelling 30-A Degrees with drummer Jonathan Davis in a good mood cannot go wrong. With respect to the original Michael and Shannon approach Michael Jackson's Billie Jean. At last the details of the original fade away a little bit. Pretty Skin presents a further dose of Michael Thomas' huge depot of romantic remedies.
Michael even offers unusual instrumentation like turntable scratching on Mind Your Step. Not always a necessary element. Please use it with care. Amante Del Vino is a stronger tune with tension, good arrangement and performance. Really appealing. Michael has a formidable affinity to romance like on the heartfelt ballade Back Home. Personally I prefer his energetic side on the propelling Cali Trippin'. Outstanding Paul Scurto on trumpet, he leveled the tune to a great final.
City Beat reveals Michael J Thomas' big talent as composer and sax player. We will certainly hear more of this blessed artist.




Buy the album at the artist's website



Album Information

Title: City Beat
Artist: Michael J. Thomas
Year: 2010
Length: 0:43:27
Genre: Smooth Jazz
Label: Harbor Breeze Music


Tracks:

01 Midtown Manhattan [4:49]
02 City Beat [4:03]
03 Wedding Song (Forever Always) [4:36]
04 30-A Degrees [3:54]
05 Billie Jean [5:18]
06 Pretty Skin [5:11]
07 Mind Your Step [4:41]
08 Amante Del Vino [3:46]
09 Back Home [3:11]
10 Cali Trippin' [3:57]