Richard Smith - Natural Soul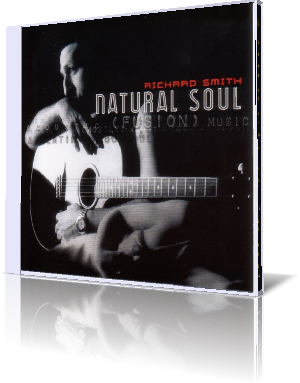 How could I miss this album? Richard Smith is a high-acclaimed professor of jazz guitar music at the USC. The University of Southern California is one of the world's leading private research universities, located in the heart of Los Angeles. The USC Thornton studio/jazz guitar department is considered one of the finest guitar programs in the world, boasting a faculty of world class touring and recording guitarists.
Richard Smith has already performed with Kirk Whalum, Marc Antoine, Rick Braun, Richard Elliot, Dan Siegel, Warren Hill, Bob Hope and Brian Bromberg, to name a few. His solo projects are Rockin The Boat (1989), Puma Creek (1989), Bella Firenza (1991), From My Window (1994), First Kiss (1997), Flow (1999), Natural Soul (2002), Soulidified (2003) and LA Chillharmonic (2008).
Richard is just touring in Netherlands, U.K. and Sicily. His new album is in the composition and tracking stage and on his gigs he is currently testing some of his new compositions. During his tour Richard is also doing a lot of teaching for the benefits of European jazz guitar students. I met Richard in Apeldoorn, Netherlands, where I attended his gig in a Jazz Café and had a nice conversation with him. Richard gave me a copy of his album Natural Soul, an independent release, which is still available at CDBaby.
Richard is joined on this album by illuminates like Richard Elliot (sax), Gerald Albright (sax), Jeff Kashiwa (sax), Dan Siegel (keys), Brian Bromberg (bass) and many more. Friends of Steve Reid's percussion will love the starting Sascha Song, sophisticated, syncopated and a flash point of jazz fusion.
The melodious Smooth Sailin has a special affinity to Pat Metheny through the use of guitar synth and the perfect guitar riffs. Ron Reinhardt can't be stop on his furious piano solo. Zephyr Cove is a beautiful town at the Lake Tahoe, Nevada. Richard incorporates the spirit of leisure and relaxation of this venue in his Samba flavored tune.
The dynamic The String Thing features sax player Jeff Kashiwa. Dave Hooper's pulsing beat is an excellent backbone for a fast paced tune. What You Won't Do For Love (1978) was Bobby Caldwell's first big step to stardom. Awesome Richard's funky approach to this vocal jazz classic.
Rhumba Malaysia was like several other songs of this album already released on Richard's album From My Window (1994). Nevertheless the song is timeless and impressing. If you ever should have the opportunity to visit the Italian city of Firenze, don't pass it. There are hundreds of miracles awaiting you. The town is glorified by Richard in the remarkable song Bella Firenza.
Like on the previous two songs Richard combines on Caledonian Road acoustic guitars with the sound of mandolins which gives the song a special Mediterranean flavor. Steve Bach adds his accordion completing the cite of the countries bordering on this sea.
Home Is Where The Heart Is features longtime fellows like Dan Siegel and Richard Elliot. Richard's home is his music. Save The Best For Last was Vanessa Williams' signature song introducing the earlier Miss America into the world of music. Richard Smith reveals the beauty of the melody in his own way.
The aspect that this album wasn't enough promoted, is no reason to let it drop. So spread the word for this spectacular album.






Richard Smith - Website


Buy the album

Further Reviews


Album Information
Title: Natural Soul
Artist: Richard Smith
Year: 2002
Length: 0:47:27
Genre: General Jazz
Label: Nobozo Music


Tracks:

01 Sasha Song [4:00]
02 Smooth Sailin [4:10]
03 Zephyr Cove [5:01]
04 The String Thing [4:51]
05 What You Won't Do For Love [4:37]
06 Rhumba Malaysia [5:37]
07 Bella Firenza [4:57]
08 Caledonian Road [5:37]
09 Home Is Where The Heart Is [3:59]
10 Save The Best For Last [4:37]