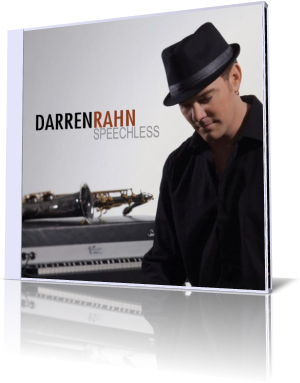 Canadian smooth jazz saxophonist Darren Rahn became popular as producer of Warren Tisdale's Ainít No Stopping Us Now. Since then he is an in-demand producer for artists like Najee, Dave Sereny, Jay Soto, Eric Darius and many more.
His official debut album Once In A Lifetime (2007) was soon followed by Talk of the Town (2009), both released on nuGroove Records.
His newest album Speechless (2012) is his third and the first one on Trippin' N Rhythm Records. Darren is joined by Mel Brown (bass), Paul Brown (guitar), Matt Godina (various instruments), Nate Harasim (keys), Maxine Hardcastle (vocals), Frank Selman (guitar) and more.
Wave of the Future introduces into the new album and sets the signal on Go. Pulsed by a conjuring beat Darren expands his melody line on sax. Into the Light smiles with an emotional touch dedicated to best live appearance.
Magical features R&B singer Joshua taking lead and direction. This crossover to R&B is one of Rahn's intriguing aspects. Since July 2011 Darren and Paul Brown join forces live as "The Producers". It's only natural that both created the mellow Give 'n' Take. They share the song on soprano sax and Gibson guitar bringing a new sound into the term romance.
When compositional talent, excellent musicianship and instrumental knowledge comes together, that is Magnetic. Darren Rahn shines however on tenor sax, his favorite instrument. Darren's polished horn arrangement on Revelation can really compete with greats like Greg Adams or Tom Scott.
Studio 54 was a world renowned discotheque from 1977 until 1981 when it was sold by founders Steve Rubell and Ian Schrager. Darren's tribute features saxophonist Najee on flute. Many elements of the song recall the Disco style of that time. Speechless presents Paul Hardcastle's beautiful daughter Maxine Hardcastle, better known for her qualities as top-dj. But this girl can sing!
With One Step Ahead Rahn presents popular smooth jazz with new electronic sound. Key wizard Nate Harasim knows to top this experience with his musical extravaganza on Euro Trippin. Flashback is a little wink to the legendary disco time featuring Dave Koz on alto sax, while Darren perfectly intertwines on tenor sax. The Healing is a well conceived and epic composition with the great sentiment of a home comer.
Darren Rahn is a young producer, which has already succeeded in creating his own signature sound. With a great label like Trippin' and Rhythm in the back Speechless is just another step to a breathtaking level of musical genius.




Website


Buy the album in all stores

Album Information

Title: Speechless
Artist: Darren Rahn
Year: 2012
Length: 0:53:15
Genre: General Jazz
Label: Trippin' N Rhythm Records


Tracks:

01 Wave of the Future [3:51]
02 Into the Light [4:11]
03 Magical (Featuring Joshua) [4:00]
04 Give 'n' Take (Featuring Paul Brown) [5:23]
05 Magnetic [4:43]
06 Revelation [4:10]
07 Studio 54 (Featuring Najee) [4:08]
08 Speechless (Featuring Maxine Hardcastle) [5:18]
09 One Step Ahead [4:21]
10 Euro Trippin [3:31]
11 Flashback (Featuring Dave Koz) [5:01]
12 The Healing [4:39]



Further review


Talk Of The Town