Darren Rahn - Talk Of The Town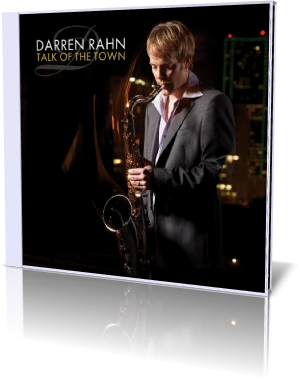 Canadian born saxophonist Darren Rahn is in the music business since the mid-90's. His breakthrough was his work with Wayman Tisdale in 2004 on the 1 single, Ain't No Stopping Us Now. Since that time he heavily performed on stage with Brian Culbertson, Tim Bowman, Wayman Tisdale and a lot more of the smooth jazz scene.
His debut album was released in 2007 on nuGroove Records entitled Once In A Lifetime. "Music is not just for me. If a song was just for me, then I really don't see the point of recording it on an album. The reason for my playing is to reach out and share with people. I want to take what is in my heart and really connect with the audience," comments Darren.
Darren's new album Talk of the Town (2009) features the industry's top session players as Frank Selman (guitars), Mel Brown (bass), Michael White (drums)Jason Rahn (trumpet, flugelhorn), Nate Harasim (keyboards), Jason Atkins (vocals), Deborah Connors (vocals) and includes thoughtful collaborations with Bob James, Jeff Lorber, Wayman Tisdale, Tim Bowman and others.
The album starts with Tale Of Two Cities. Mel Brown and Michael White are participating in this tune, two very in demand sidemen, as I showcased in my previous reviews. Darren presents an energetic song with great overdub technique.
What Cha' Gonna Do For Me was one of Chaka Khan's greatest hits in 1981 scoring to #1 on the Billboard charts. Wayman Tisdale and Darren Rahn renew their hit-connection with that terrific cover.
Talk Of The Town brings a funky note to the album. A staggering increase of rhythm and melody makes this tune to a breathtaking manifest. Secret Crush features key-wizard Jeff Lorber in a mesmerizing piano solo. Free To Be Me is Jeff's second appearance with additional Moog and Wurlitzer support. Darren Rahn follows the path of Dave Koz, Richard Elliot and other smooth jazz epigones.
With You By My Side features jazz guitarist Tim Bowman in a sultry and romantic tune. I call it a fireside song. Romance is still a great factor in smooth jazz.
Forget Me Nots is a 1982 hit recording by R&B singer/songwriter Patrice Rushen. Still today's Patrice performs this song especially together with guitarist Lee Ritenour (Smoke 'n Mirrors). Darren Rahn's rendition is a first canapé of the new formation De'Nate' (Darren Rahn, Deborah Connors and Nate Harasim). Darren takes the lead role while Deborah sings the background vocals.
Tell Me What You Want is Darren's reference to Urban jazz. I love Jason Atkins raw vocals. Easy Does It is certainly a highlight of this album because of Bob James' brilliant piano solo. I wish it would be a little bit longer.
Duplicity features Jason Rahn on trumpet and flugelhorn. Jason duets with his brother in a brassy interaction. Both are popular sidemen on productions of Michael Manson, Eric Darius, Dave Sereny and more.
Daryl Hall and John Oates composed their big hit I Can't Go For That in 1981.One of the first pop hits to feature a drum machine and an irresistible bass line. Darren's rendition is a strong echo of the old monster hit. The album ends with the fading Our Love. Massive sweetness.
Darren asks: "It's no secret that the contemporary jazz genre is filled with an abundance of sax players - so in a market that is oversaturated with saxophonists just what does it take to stand out?" Darren found the receipt for recognition. Sultry melodies and perfect interpretation.


Title: Talk Of The Town
Artist: Darren Rahn
Year: 2009
Length: 0:50:15
Genre: General Jazz
Label: nuGroove Records


Tracks:

01 Tale Of Two Cities [4:16]
02 What Cha' Gonna Do For Me [4:06]
03 Talk Of The Town [4:11]
04 Secret Crush (featuring Jeff Lorber) [5:10]
05 Free To Be Me [4:00]
06 With You By My Side (featuring Tim Bowman) [4:35]
07 Forget Me Nots (featuring De'Nate') [4:10]
08 Tell Me What You Want [3:44]
09 Easy Does It (featuring Bob James) [4:14]
10 Duplicity (featuring Jason Rahn) [3:53]
11 I Can't Go For That [3:58]
12 Our Love [3:56]