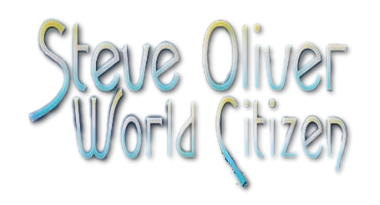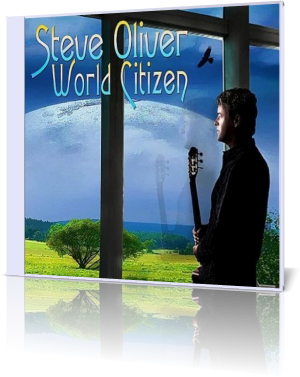 Guitarist Steve Oliver is known by his incredible stage presence. This he owes his distinctive vocal talent and his penchant for improvisation. Distinctive is also his skill to use his Roland (Boss) GR-33 guitar synthesizer with his guitar.
First View (1999), Positive Energy (2002), 3D (2004), Radiant (2006), Snowfall (2006) the DVD/CD feature One Night Live (2008), Global Kiss (2010) and now World Citizen (2012). He enjoys his fans with regular publications on his own label SOM Entertainment.
On his new project Oliver is joined by Spyro Gyra members Tom Schuman and Bonny B, saxophonists Paul Taylor, Andrew Neu and Will Donato, bassists Eddie Reddick, Donald Philips, KT Tyler and Billy Sherwood (from the legendary band Yes) and Moody Blues keyboardist Alan Hewitt.
True to his style is Watching The World a continuation of his previous music. A combination of humming, chanting and guitar music. The Latin tinged Fiesta invites Will Donato for some sensible sax and flute presentation.
The title song follows Boney B's waving Samba rhythm leading Steve's guitar performance to ecstatic heights. Salt and pepper are delivered by Tom Schuman on keyboards. On How Will You Know Steve impressed us with his powerful voice, which is reinforced with reverb and trumps by his clear guitar sound.
On Up Front Steve and saxophonist Andrew Neu pair to a dynamic duo. Design is a timeless melodious guitar piece in the style of Fleetwood Mac's Albatross. With the song New Possibilities Steve tries to rouse the lethargic to look for new opportunities.
The uplifting One Big Smile features Paul Taylor on soprano saxophone in a fair contest for the crown of loveliness. Steve's genius sparkles on, if he concentrates on the pure guitar performance like on Pure Spirit. Like all the other songs is Time Never Goes Away influenced by Steve's characteristic style, something of world music, partly caused by the nature of his equipment.
The Oriental and African element has already inspired many musicians. Consider Marcus Miller's Ethiopia or Peter Muller's Cairo. Steve previously offered Oriental style on Global Kiss. The slower Desert Traveler follows the rolling gait of the camels.
But then again, Steve focuses on the melody and delivers us the beautiful Wide Open View. Oliver's romantic acoustic guitar is accompanied with feeling by Mark Hasselbach on trumpet.
Steve Oliver's World Citizen is featured by a broad range of his musicianship. Wealth of variety makes music really interesting. Steve has taken to heart this concept.




Website


Buy the album in all stores

Album Information

Title: World Citizen
Artist: Steve Oliver
Year: 2012
Length: 0:51:17
Genre: General Jazz
Label: SOM Entertainment


Tracks:

01 Watching The World [3:31]
02 Fiesta [3:35]
03 World Citizen [4:35]
04 How Will You Know [4:46]
05 Up Front [3:51]
06 Design [5:03]
07 New Possibilities [4:04]
08 One Big Smile [3:22]
09 Pure Spirit [5:31]
10 Time Never Goes Away [4:12]
11 Desert Traveler [4:33]
12 Wide Open View [4:15]



Further reviews: