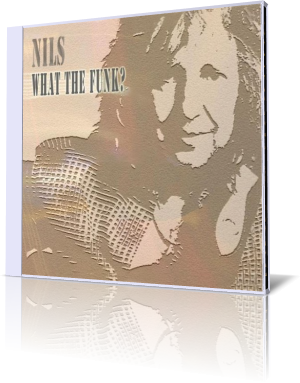 Is it a little wonder that Nils became so popular? No, it's his unique and signature sound and his dynamic presence producing a well-seen musician on every big festival.
Best known as a smooth jazz guitarist by his solo projects Pacific Coast Highway (2005), Ready To Play (2007) and Up Close And Personal (2009) he now gives his music a new touch for the next generation.
What The Funk? is the question and the title of his new album, which was released in 2010. Most of the tunes are written and arranged by Nils, but he invited some great cats like Oliver Brown (percussion), Alex Al (bass), Reggie McBride (bass), Ricky Lawson (drums), Clydene Jackson (keyboards) and many more to make his album vivid and attractive.
Nils gives us a first impression of the new direction with Shake It. Shake your booty, wiggle and enjoy the music. The Hump continues the catchy mood. C'est la vie!
Nils exactly knows which ingredients are important to mix the perfect brew. Jump Start is so delightful with the smart guitar sound, the lovely strings by Doy & The Lovestar Strings and Oliver's colorful percussion.
On A Walk In The Park Nils genially combines a solid smooth jazz melody with brilliant programming effects. What The Funk? blends elements of techno beat, funk and smooth jazz to a shimmering song. Johnny Britt's trumpet solo is outstanding.
When you love Hall & Oates' Sara's Smile, you will certainly trace the song in the smooth jazz genre. Saxophonist Boney James covered the song on his album Seduction (1995), Alex Bugnon offered on his album Southern Living (2003) a sultry Rhodes rendition. Now we see the song again this time interpreted by Nils on guitar. Superb!
But Nils has more hot iron in the fire. Trip Me is his message! And the swing goes on with Dance With Me. If you ever experienced the first rays of the rising sun in a lovely venue, you will love Nils' colorful musical description of this special moment in the song Morning Light.
Save Our Love features the singer and keyboardist Clydene Jackson. Clydene is best known in the music industry as a first-call session singer. According to her website you find her contribution on platinum records by Rod Stewart, Barbra Streisand, Michael McDonald, Patti LaBelle and others. A wonderful combination of vocals and guitar.
Shine Your Light On Me was written in the spirit of Spyro Gyra's Morning Dance. Inspirational! Detroit Strut is the final groovy tune with a remarkable hook.
Nils' new album What The Funk? breathes new life into the smooth jazz genre. A cornucopia of innovative ideas and captivating songs.




Website


Buy the album in all stores

Album Information

Title: What The Funk?
Artist: Nils
Year: 2010
Length: 0:50:10
Genre: General Jazz
Label: Baja/TSR Records


Tracks:

01 Shake It [4:45]
02 The Hump [4:08]
03 Jump Start [4:17]
04 A Walk In The Park [4:45]
05 What The Funk? [4:10]
06 Sara Smile [3:57]
07 Trip Me [4:09]
08 Dance With Me [4:07]
09 Morning Light [3:35]
10 Save Our Love [4:28]
11 Shine Your Light On Me [3:46]
12 Detroit Strut [4:04]


Further reviews: